Morgan's two goals propel Union past Harvard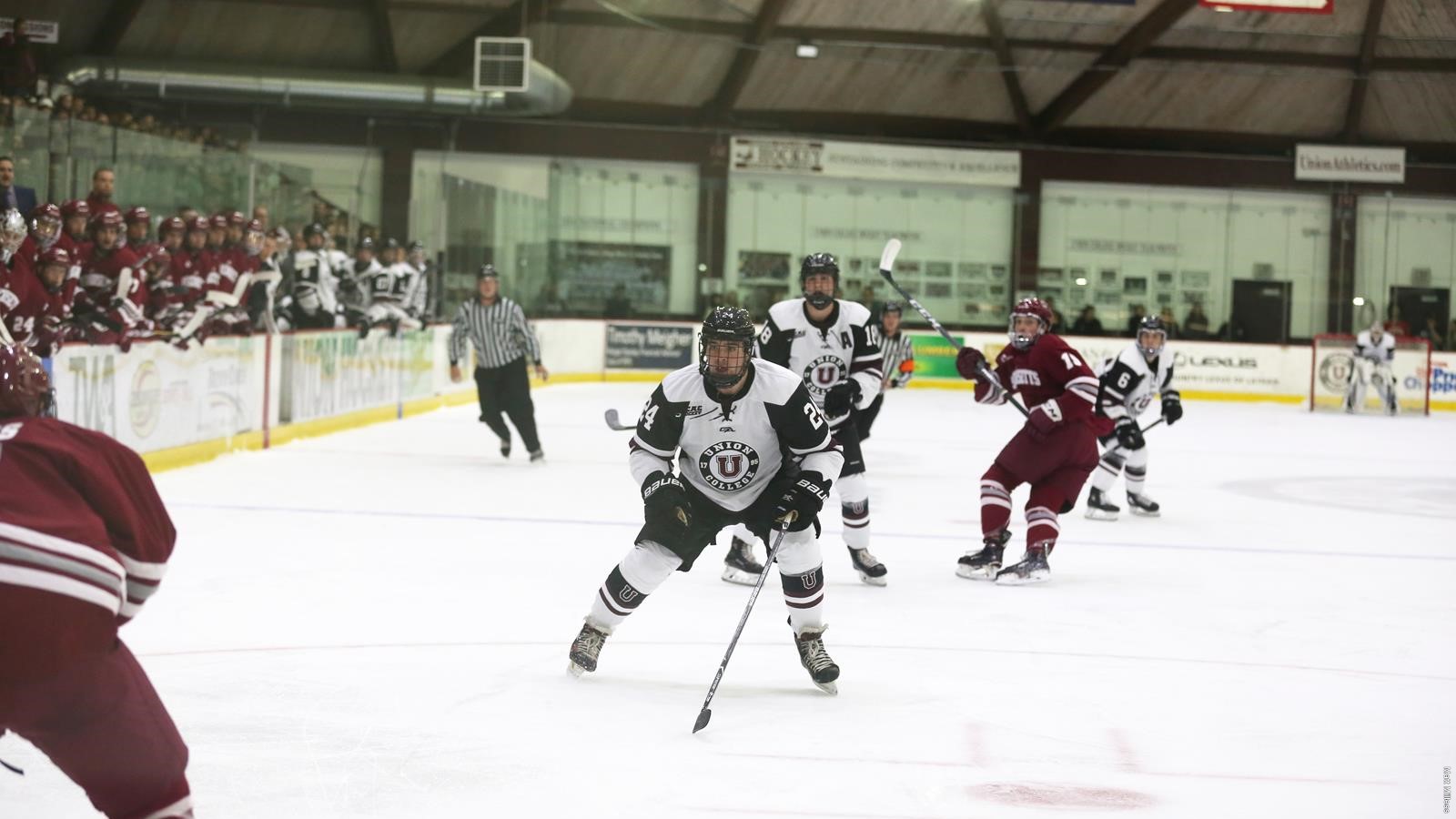 SCHENECTADY — First year Liam Morgan had a career night, scoring two goals to help the Union College men's hockey team claim two crucial points in a 3-1 victory over Harvard on Friday night at Messa Rink.
The win helps to put more distance between Union and Harvard in league standings, as the Dutchmen (17-13-1, 12-5-0 ECACH) sit in third place with 24 points, while the Crimson (10-10-4, 9-6-3 ECACH) remain in fourth with 21 points.
Scoring just his second and third goals of his career, Morgan got Union on the board at the 7:40 mark of the first period. Cole Maier carried the puck into the zone, and after skating into the Harvard defense in the slot, Morgan picked up the puck and sniped a shot over the glove of Crimson netminder Michael Lackey.
Despite Harvard tying the game up before the end of the first period, Morgan would score his second of the game with less than three minutes remaining in the second period. In similar fashion to the first, three Harvard skaters converged on Maier who carried the puck into the offensive zone. Morgan once again gathered the loosed puck and fired a shot through traffic over Lackey's glove for the eventual game winner.
Shortly after taking the 2-1 lead, Union earned its first power play of the contest. The Dutchmen moved the puck around in the Crimson zone and Sebastian Vidmar connected Ryan Walker in front of the net. Walker finished off the play alone in front of the net, sweeping the puck around Lackey and into the back of the net for his ninth goal of the season.
Union carried a 25-17 advantage in shots, along with the 3-1 lead, into the second intermission.
Harvard didn't give up, however, and went on to outshoot the Dutchmen 14-5 in the third period in an attempt to get back into the game.
In spite of Harvard's best efforts, the Union defense anchored by Jake Kupsky in net, kept the Crimson from finding the back of the net. Kupsky made 30 saves for his third-straight win, and fourth within his last five games. He was also helped out in front, as the Dutchmen blocked a season-high 26 shots in the contest.
Union finishes off the weekend tomorrow back at Messa Rink, hosting Dartmouth at 7 p.m. (ET).