Basketball
High School Sports
Mohonasen earns first trip to New York State semifinals with overtime victory
Mohonasen takes out Notre Dame-Utica to reach the Class A Final Four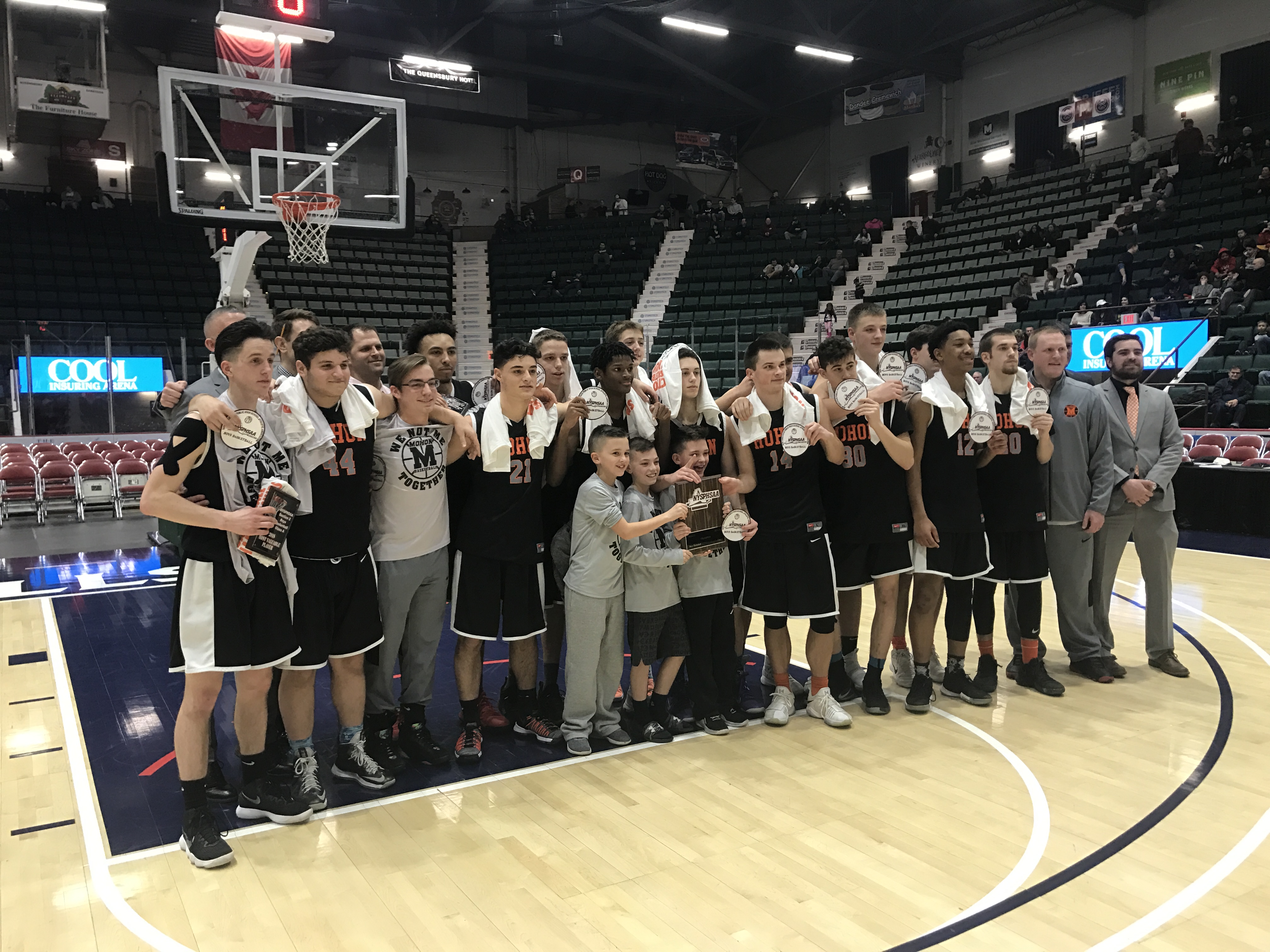 TROY — "Recommit to the defense and trust the offense."
Those were the words of Mohonasen head coach Josh Peck after the Mighty Warriors did exactly that; locked down on defense and trusted the offense to come out and upset Notre Dame-Utica 76-71 Saturday afternoon.
High school basketball is alive and well and the New York State tournament Class A regional game were underway at Hudson Valley Community College. The Section II Class A champions Mohonasen Warriors took on the Section III champions Notre Dame-Utica Jugglers.
A game where Mohonasen was already written off by many, they showed up to play.
The game started poorly for the Mighty Warriors as they fell behind early to Notre Dame-Utica (ranked 12th in NYS Class A). However, they showed resiliency while storming back with 10 straight points to take the lead and kept the score close heading into halftime. Guard Duncan Tallman led the team with eight points and three assists in the first half showed off his range as he knocked out two from three-point range.
Tallman came alive in the second half as he scored 17 of his 25 points, brought down nine rebounds and adding five assists on the game. He along with Jalani Abdul-Aziz, who chipped in 18 points, four rebounds and two assists while Gregory Van Epps (13 points, five rebounds and four assists) made sure the Warriors were in good hands.
Notre Dame-Utica were led by stand out junior guard Dante Griffin who led the Jugglers with 26 points, five rebounds and two assists.
"He had 36 [points] last week in the [Carrier] Dome when we watched and we knew he was going to be a player," Peck discussing and giving all the credit in the world to Griffin after the game, "I think he hit four or five threes…he's a great player and on this stage, players have to play and he did."
The game needed more time however as both teams were deadlocked at 59 at the end of regulation. An extra four minutes would determine the team moving on to the Class A state semifinals.
Overtime could not have started any better for Mohonasen as Tallman scored seconds in on a layup off the tip-off. They followed that up by scoring the next seven points and kept the Jugglers from scoring for the first couple of minutes. Tallman then continued to dominate as he scored the last six points for his team as Mohonasen sealed the victory.
Peck gave a lot of credit to the Warriors' defense throughout the game and especially in overtime. "We just recollected, our identity all year has been defense and our goal was to keep them under 60 [points] in the game."
Mohonasen will now move on to the New York State Class A semifinals which will be held at Floyd L. Maines Veterans Memorial Arena in Binghamton, NY. They will face off against Ardsley High School coming out of Section I this coming Saturday, March 17. This will be the Warriors' first ever Final Four appearance as their last two ever state regional games (1992 and 2011) ended in defeat.