Marist gets past Siena 67-51 to advance to womens' MAAC championship game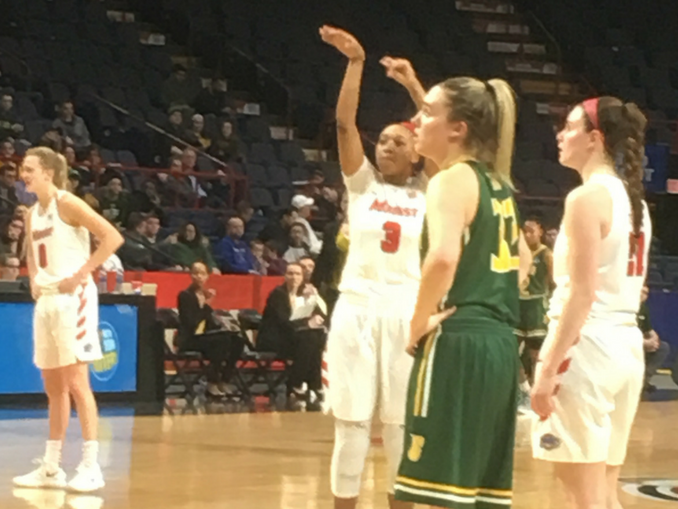 ALBANY — It seemed like there was a lid on the basket all game for the Siena Saints women Sunday afternoon and that was their ultimate demise as they fall short to the Marist Red Foxes, 67-51 in the MAAC Semifinals.
In the beginning of the first quarter, Siena went just 1-11 from the field and Marist took advantage of that and went on a 10-0 scoring run. With 3:07 left in the quarter, Marist stretched their lead to 19-8 and held Siena scoreless from the floor for over four minutes. At the end of one, Marist held onto their 11-point lead with a score of 25-14. The Red Foxes shot 8-14 and made all eight of their free throws. They also took advantage of Siena's four turnovers and cashed in for six points. No matter who had the ball in their hands for Siena, Marist was bound and determined to shut them down and they did just that.
"We did it on the defensive end. We don't get many steals but we contested shots and made it tough for them. Once we stopped putting them on the line, we did a much better job at that end of the floor," said Marist head coach Brian Giorgis.
Siena started to use a half-court press to try and slow down Marist's offense and it was effective in spurts. The Saints had some opportunities in transition as they corralled 15 total steals in the game. During the second quarter, the Saints made back to back shots beyond the arc and cut Marist's lead to single digits, 29-21. With the help of a late three pointer by Anna Lundquist and a buzzer-beating layup by Kollyns Scarbrough, the Saints seemed to have a little momentum heading into half-time despite their shooting woes. Marist still led 40-29.
"We threw a junk defense at them that we've run in the past. We put Kollyns and Maddie (Sims) in a tandem and matched up with their three shooters on the court and our players executed it great," said Siena head coach Ali Jaques.
There was a point in the third quarter when Siena was able to fight back and get within just three points.
"It was a pretty neat moment when we cut it to three. The crowd was really into it and it felt like such a great environment," said Jaques.
However when it was all said and done, Marist was just too much to handle for Siena. The Red Foxes had three players score in double figures, with Alana Gilmer leading the way with 22 points. Rebekah Hand scored 15 points and Maura Patrick scored 13 points.
"Alana came up big with some big buckets when they had cut it to three. She hit back to back buckets," said Giorgis.
Marist is looking forward to playing in their first MAAC Championship game in program history.
"We're really excited. We're really looking forward to playing together and hopefully getting it done," said Alana Palmer.
"We've been working all year for this. It's just more excited than nervous," said Rebekah Hand.
Despite the loss, an emotional Kollyns Scarbrough reflects on what the season meant to her.
"What I'm going to take away from this season, through adversity and through doubts, some of the best teams can rise. We were picked eighth. We had injuries. My best friend never got to finish her career. She was out freshman year. But through all that adversity, we still found a way somehow to push the program to its peak. In the end, it's not about the talent level you have, it's about the chemistry in the locker room and about people playing for each other," said Scarbrough.
Marist will take on Quinnipiac, who beat Rider 82-62 in Sunday's other semifinal on Monday afternoon at 2:30 p.m. in the MAAC championship game. . Quinnipiac has won two of the last three MAAC Championships.