Maple Hill survives comeback and edges Mayfield in Class C quarters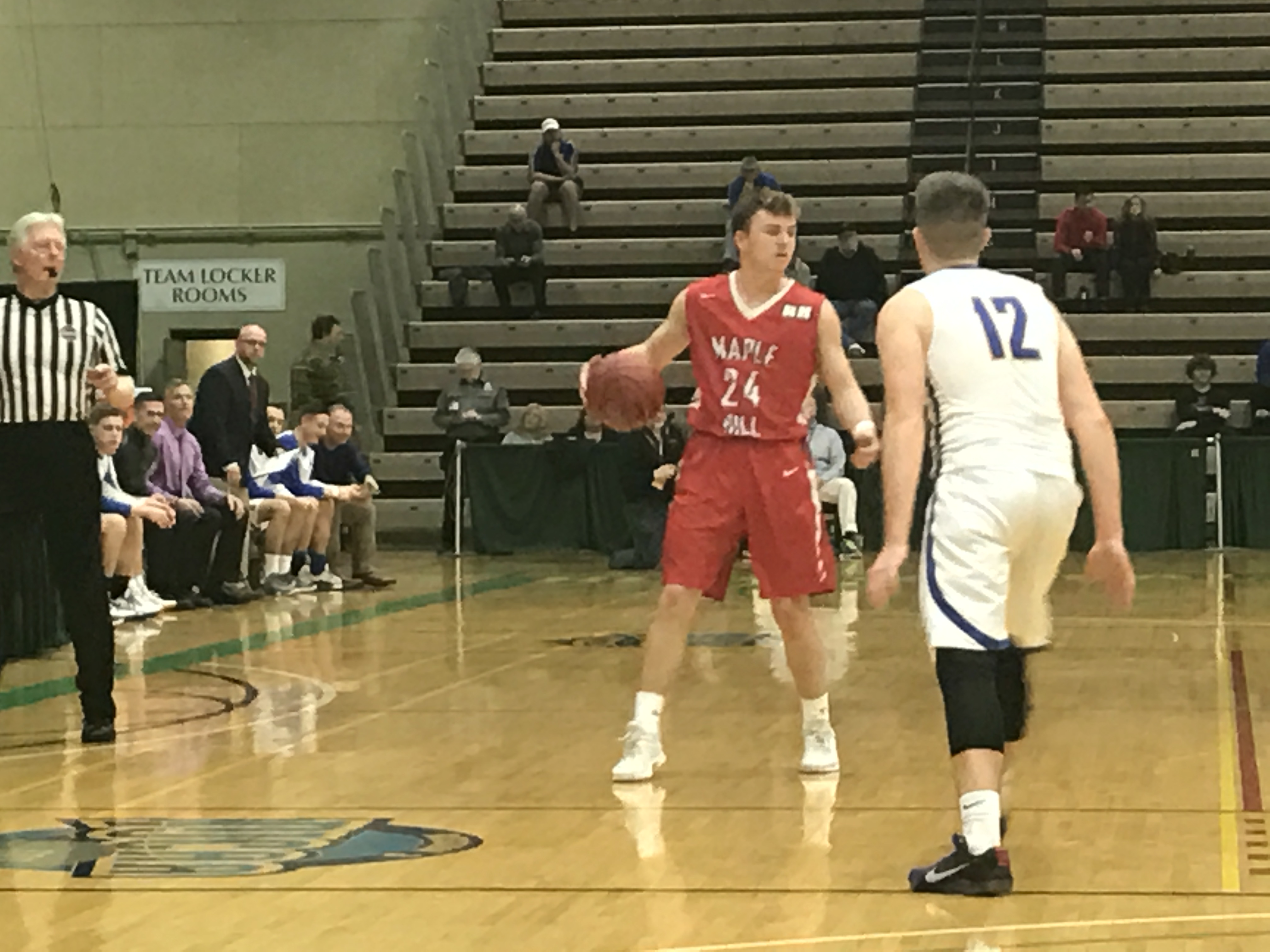 TROY — Maple Hill had to give it their all but were able to hold off a huge comeback effort from Mayfield and grab a win in the Class C quarterfinals on Saturday morning at Hudson Valley Community College, 54-52.
Maple Hill came out of the gate firing as they went on an early 17-0 run in the first quarter and jumped out to a 17-4 lead, extending it to 22-7 by the end of the first quarter.
As the game progressed it was Mayfield coming up big as they began the second on an 8-2 run that cut the lead to single digits. Maple Hill put themselves back up double digits, but the Panthers went on another 8-2 run, their second of the quarter, that sent the game to the break at 29-23. Mayfield came into the game as a big underdog as the #14 seed that upset the #3 seed in Schoharie on Tuesday and looked as though they were trying to make the glass slipper fit for the second straight game.
Maple Hill extended the lead out to eight, but Mayfield again clawed back in and they ended up with a 42-41 lead within the first minute of the fourth quarter.
"You knew it wasn't going to be that easy all game long. They made a great adjustment to the 3-2 zone that kind of took us out of our rhythm. We were getting good open looks inside that enabled us to kind of open up for some threes early on that we weren't able to get later," Maple Hill coach Scott Hanrahan said.
After Mayfield took the lead, Maple Hill went on a quick 11-1 run that put them back up seven, 52-45. Again, Mayfield came clawing back to tie the game at 52 after Garret Delaney hit a three with just over 90 seconds to play, but free throws from Evan Kulpa, a block at the rim of Mayfield's Trevon Gifford and a final defensive stop in the dwindling seconds preserved the Maple Hill victory.
Delaney and Gifford were big all the way through for Mayfield. Gifford had 19 points, while Delaney had 18. All of Delaney's points came on three pointers.
Maple Hill had three players in double figures. Nate Mannion finished with 20 points on the day, while Nick Butler had 13 and Connor Hall chipped in 11. Mannion also had a huge day on the boards as he finished with 21 rebounds.
"They don't play with fear. They keep going out, they do their job, they try to use each other and they rely on each other just to play," Hanrahan said.
Maple Hill is now going to the sectional semifinals and will play in Glens Falls for the second straight year. They did it as the Cinderella story with the #14 seed. They are a little less of an underdog now as they own the #6 seed in Class C.
"It's amazing. This is the second year in a row we're making it there, so there's nothing more that I wanted than just to get to Glens Falls. That's where every player in New York wants to play, so that's huge for us as a team to get there," Mannion said.
The Wildcats will travel to the Cool Insuring Arena in Glens Falls on Thursday, where they will take on either Hoosick Falls or Greenville. The tip-off the semifinals is set for 5:30 p.m.