Maple Hill baseball captures fourth straight win, outlasting Catskill 6-5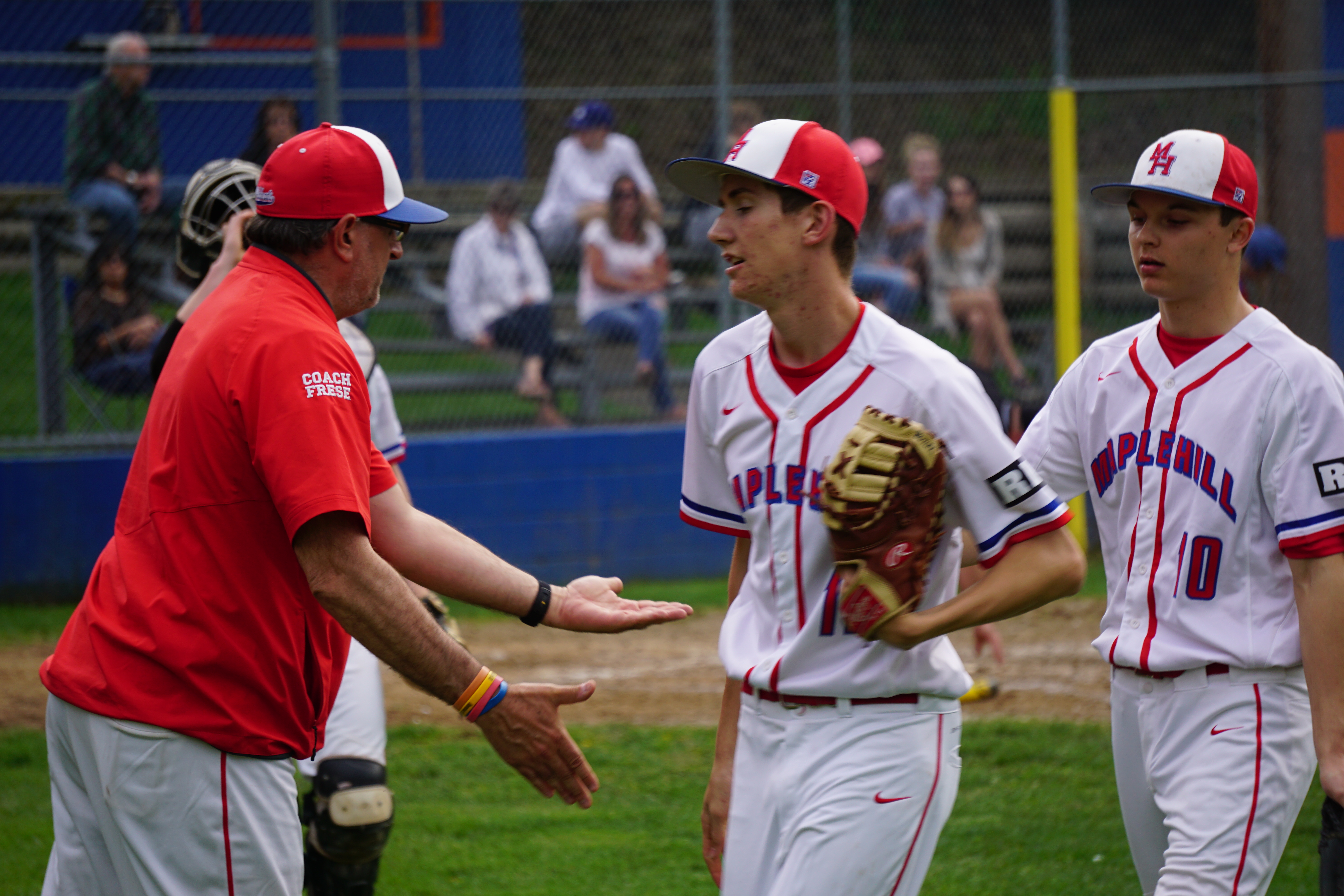 JEFFERSON HIGHTS — Monday afternoon brought the Maple Hill High School baseball team its third straight conference win, and fourth victory in five days as the Wildcats outlasted Catskill 6-5. While four straight wins may seem like a junior accomplishment to the average Joe, for the Wildcats it's an enormous leap forward for a team that had its fair share of struggles at the start of the season.
"We always knew we were a good team but just had to clean some stuff up," junior second baseman Connor Hall said. "We've picked up defensively, and that's kinda helped us pick up the bats too."
Up until last Thursday, the Wildcats allowed the same amount of runs they plated, 66, but since then the team has done a complete 180. In wins over Cairo-Durham (twice), Averill Park and now Catskill the Wildcats have scored 45 runs while allowing just 10.
"It just shows how we've broken out of our early season funk, and started generating more runs and fewer errors in the field," junior catcher Nick Butler said. "We're overall playing better baseball in the hitting, fielding and pitching aspects."
As a whole, the Wildcats are batting .314 on the season, and the team has notched 40 hits since their current win streak started last Thursday with a14-1 trouncing of Cairo-Durham. "For our team to have over a .300 average is incredible to put pressure on other pitchers and let our pitchers know that they will get run support," Butler went on to say.
"As disappointed as I was earlier in the year I'm really proud of their effort," said head coach Rico Frese, who considers Saturday's 2-0 head-turning win over Class A opponent Averill Park the Class C program's biggest win. "It was a nice win. Their energy has increased a little bit, and their focus during the game has been a lot better."
It's said the focus drives success and for the Wildcats, that's exactly what provided Monday as Maple Hill first weathered a two-zero deficit entering the second inning and turned it into a four-two game. Then the kids from Castleton held on to a one-run lead for 12 outs, four defensive innings.
Junior pitcher Alic Yager went six and two-third innings on 110 pitches, allowing 10 hits and five runs; three earned while striking out six and walking one. Throwing one-third inning on 4 pitches, senior Noah Roberts allowed zero hits and zero runs while striking out one and walking none.
At the plate, Nick Butler led the Wildcats with 2 hits, one RBI, and one run. Teammates Connor Hall, James Miller, Kris Kretzchmar and Quinn Pratico also batted in one run apiece. Miller, Kretzchmar, Butler, Roberts, and Pratico scored the Wildcats' six runs.
For Catskill, junior Logan Worth pitched a complete game allowing six hits, six runs; 2 earned while striking out two and walking six.
In hitting, Worth led the Cats with 2 hits, one RBI, and one run. Addison Allen, Branden Eacott and Andrew Macholdt each had two hits while Nick Schrowang and Justin Worth notched one apiece. Allen, Eacott, Schrowang and Macholdt also scored one run each. Schrowang, Worth (Justin) and Jeremy Bulich all delivered a single RBI as well.
The two squads will meet again on Wednesday at Canonica Field. The contest's first pitch is scheduled for 4:15 p.m.
-Dylan Rossiter – @ByDylanRossiter – Rossiter@518Sports.com-