Killed by Keyes, remembering the time I got blown out by Falcons linebacker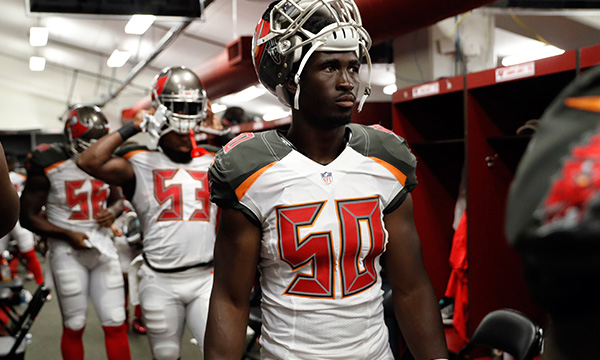 Chatham, NY
FINAL: Chatham Panthers 69 Ichabod Crane Riders 0
This game took place on October 16th, 2009.
#52 for the 2016 NFC Champion Atlanta Falcons is Josh Keyes and he attended Chatham High School and you guessed it, was the best player on the field that day.
In fact, he was the best player on the field basically every time he took the field in high school.
I played in that game, I started that game, and I've never seen a team so happy to lose 69-0. We weren't happy about the losing part really, we were happy that we tackled Keyes twice. Perhaps it was only once if you count that one of those times we forced him out of bounds. He still proceeded to score on six of his eight snaps.
"He always was a versatile athlete even when he first started at the peewee level, he ran up and down like he was running cross country or track," said Jake Bewick, who started at QB in that game for Ichabod Crane "But within no time he was playing and making football moves, lowering his shoulder on runs and tackling through ball carriers on defense."
I played football at Ichabod Crane High School for two years after the program was created in 2008. We lost almost every game we played and most were blowouts. But that game was special and we knew it.
When you prepare for a team, you watch film, you study the opposing teams offense and defense and then practice a game plan. The problem with preparing for the 2009 Chatham Panthers was that you could not prepare for the speed of the team, specifically Keyes. Even if you could, chances are there wasn't anything you could do about it.
"He was on a different level than any player I've ever seen," former ICC Defensive Coordinator Patrick Sanger said "He primarily played offense against us, but his patience and ability to find another gear was just incredible."
He was the greatest athlete I've ever shared a field with, which is why he's in the Super Bowl and I'm writing about him.
"When he found the edge on sweeps, it was just a dead sprint and we didn't stand a chance," said Sanger.
In eight games played in 2009, Keyes had 1,611 rushing yards while playing limited snaps. Keyes leads Chatham's football program in career rushing yards (5,145), single-season rushing yards (2,089), single game rushing yards (402), career rushing attempts (448), single game rushing attempts (35), career yards per rush (11.5), single-season yards per rush (12.4), career rushing touchdowns (71), single-season rushing TD's (36), single game rushing TD's (8), career points (480), single-season points (242), single game points (48), career 100-yard rushing games (24), single-season 100-yard rushing games (10) and consecutive 100-yard rushing games (23).
"On the high school level he was the best yet most humble player on the field," said Bewick.
"I think even in high school everyone knew he was something special and that he was going somewhere. Just watching [Keyes] play, let alone sharing the same field as him was really incredible," said Mike Plass, who played for ICC in that game.
I got chills when I read the rosters for Super Bowl 51 and saw Josh Keyes' name on the list. Growing up where we did, the chance of you playing against someone who might be a Super Bowl champion is incredibly unlikely.
"I was pulling for him at Boston College as a local product as well as at Tampa Bay and now Atlanta, just proof of what hard work can get you," Sanger said.
Regardless of the outcome of Super Bowl 51, two 518 representatives will be champions. Patriots RB Dion Lewis attended Albany Academy before playing college ball at Pittsburgh Patriots defensive coordinator Matt Patricia played at RPI. Joe Vellano played at CBA/Clifton Park and was on the Falcons practice squad with Keyes before they were both called up to the 53-man roster.
Selfishly, most of us Rider alum would love to say that we played against a Super Bowl champion. Losing big can be embarrassing, losing 69-0? Not even Gronk would like that. Josh, we forgive you and we're proud to have this long lasting memory of you.