Jose Fernandez: 1992-2016
Yesterday, Marlins fans and baseball fans woke up to heartbreaking news.
Sickening news: Source confirms that #Marlins' Jose Fernandez was killed in boating accident. Statement coming from club shortly.

— Ken Rosenthal (@Ken_Rosenthal) September 25, 2016
I was scrolling through Twitter shortly after Ken Rosenthal broke the news. When I saw the tweet, I immediately hoped that I had accidentally followed a fake account and that this was some sort of sick practical joke. Minutes later, the news was confirmed by the Miami Marlins, who issued a statement.
Statement from the Miami Marlins organization: pic.twitter.com/6A4Rv6m2g9

— Miami Marlins (@Marlins) September 25, 2016
The Marlins set up a memorial for Jose on the field. His number 16 was painted on the mound, and a Marlins hat was placed by the rubber. It showed that the mound would always belong to number 16.In addition to this, all Marlins will wear number 16 tonight, in their first game since Fernandez's tragic passing. The Marlins are also retiring number 16 in honor of Fernandez.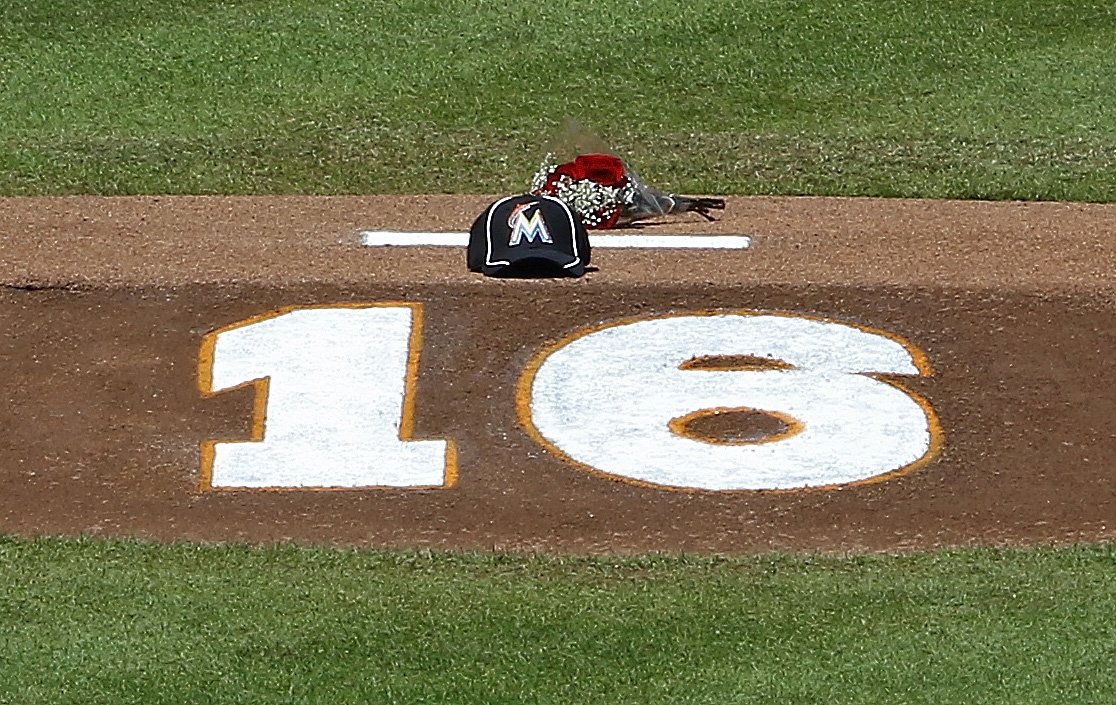 All #Marlins will wear number 16 for tonight's game to honor José Fernández. (h/t @clarkspencer) pic.twitter.com/KJlq125AyC

— MLB Jersey Numbers (@NumbersMLB) September 26, 2016
The team held a press conference after the news broke. Players and coaches talked to the media about what they loved about Fernandez. Don Mattingly, who was hired to manage during this past off-season, was very emotional while talking about Jose.
Throughout the day, players and coaches went out to the mound to remember their teammate. One of the most heartbreaking images that has surfaced is Dee Gordon visiting the memorial. Watching his reaction is absolutely heartbreaking. Gordon lost his brother, and he was absolutely devastated.
Dee Gordon at the Jose Fernandez memorial is heartbreaking pic.twitter.com/wO38sgVWDl

— Barstool Sports (@barstoolsports) September 25, 2016
Gordon followed his visit up with a post dedicated to his late teammate.
@FlashGJr paying tribute to Jose Fernandez 🙏 #Marlins pic.twitter.com/xHlf6GgogY

— ashley (@ashley_nun17) September 25, 2016
Today, Gordon continued to honor Fernandez. Gordon went out to the mound and placed a glove and hat near the rubber. He also took batting practice in a shirt that said "RIP." The I on the shirt was replaced by a picture of Fernandez.
Dee Gordon wearing a RIP t-shirt out to batting practice, placed Jose Fernandez's glove and cap on mound.

— clarkspencer (@clarkspencer) September 26, 2016
Dee Gordon honors his friend Jose Fernandez. pic.twitter.com/5gC7jeSq6i

— Jeff Passan (@JeffPassan) September 26, 2016
There is no doubt that Marlins Park will be filled with sorrow as the Marlins face the New York Mets tonight. That won't be the only place that will miss Fernandez. Around the league yesterday, Fernandez was remembered. A moment of silence was held before each game. Red Sox DH David Ortiz was supposed to be honored by the Tampa Bay Rays on Sunday. When Ortiz learned about what had happened earlier Sunday morning, he begged the Rays to cancel the ceremony.
"We were supposed to have an event on the field about retirement, and I told them, 'No, today is about Jose,'" said Ortiz.
Ortiz was Fernandez's favorite player while he was growing up in Cuba, and Ortiz was devastated when he found out Jose had been killed. During the moment of silence, the camera showed Ortiz holding his hat over his mouth, crying. His hat had "16 JF" written on it.
I dont have the words to describe the pain feel for the loss of my friend Jose. Goodbye, my friend. pic.twitter.com/xvaa5z62RW

— David Ortiz (@davidortiz) September 25, 2016
The league was heartbroken, they had lost a great man. Jose played with the joy of a little kid. He wasn't afraid to show that he was a kid at heart. His smile was contagious, and he played the game the way it should be. I have never seen a player that has been happier to do what he loves. He played the game with a smile on his face, and had a tremendous amount of love for the game of baseball. Jose risked imprisonment in order to play the game he loved. In fact, he was thrown in jail as a teen for trying to escape Cuba. Finally, in 2007 he and his family defected from Cuba. He played high school baseball in Florida, and he was drafted by the Marlins in 2011. Sadly, when Fernandez defected, his grandmother stayed in Cuba. They were separated until 2013. After his rookie season, Jose and his grandmother, Olga, were reunited, and Olga was able to see her grandson pitch on Opening Day in 2014. Jose was ecstatic to be reunited with his grandmother, who he revealed had taught him how to catch a baseball. It was a very emotional reunion.
Not only did he play the game with a smile, but he was really good at it too. Since entering the league, Fernandez was arguably one of the best pitchers in the league and was on track to be one of the greatest pitchers to take the mound. Sadly, we will never know what he could have done.
Over the course of his way too short career, Fernandez had a 38-17 record, with a 2.58 ERA. He racked up 589 strikeouts over 471.1 innings pitched. He threw a 95 mph fastball, that could be followed with a nasty slider. Fernandez was an All-Star in 2013 and 2016, and was named the 2013 NL Rookie of the Year. There is no doubt that Jose had a chance to be one of the greats. Unfortunately his career and life ended way too soon. Another hard and heartbreaking element to Jose's story can be found on his Instagram page. One of his last posts was of his other half. His girlfriend was pregnant. Unfortunately, Jose's child will not meet Jose. Jose will never get to meet his child. This makes his story even more heartbreaking.
The loss of Jose Fernandez was felt around the league, and many teams chose to honor him. Many teams made Fernandez jerseys and taped them to dugout walls. The Mets, the team that Fernandez faced when he made his MLB debut in 2013, did this, and they will have the jersey with them for tonight's series opener against the Marlins.
Amazing tribute from fellow Cuban Yoenis Cespedes, as he hangs a Jose Fernandez #Mets jersey in dugout. (Via @Mets) pic.twitter.com/GCGnUwYWT6

— Devan Fink (@DevanFink) September 25, 2016
Jose Fernandez was a rising star, he was only 24 years old, and he had a chance to be a great pitcher, and even be inducted into the Hall of Fame. His career and life were taken way too soon. The man played with the joy of a little kid, and had so much love for the game of baseball. The game of baseball lost a great man. He was the type of ballplayer that doesn't come around often, and it will be a while before the game of baseball finds someone that comes even close to him. His legacy will live for many years to come, he must not be forgotten. He was a brilliant pitcher. Heaven's rotation gained an ace with a nasty slider. We will miss Jose. I send my thoughts and prayers to his family, who must be struggling at this time. A great man was taken way too soon. Thank you for the good times, Jose. We miss you already.