Jones, Scarborough lead Siena women past Niagara in MAAC quarterfinal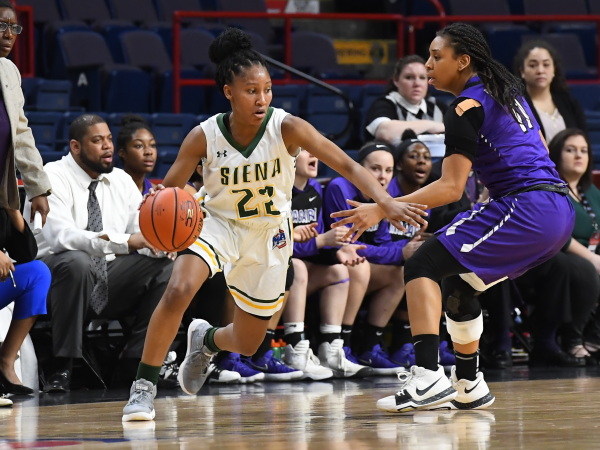 ALBANY — It was a sluggish start for the Siena women Saturday afternoon against Niagara but their defensive intensity was a major reason why they pulled off the victory in the MAAC tournament quarterfinal, 71-60.
Niagara got out to an early 10-4 lead in the first quarter and it looked like the Saints could be in trouble. Siena was only shooting 2-10 from the field during this stretch. Then the momentum shifted in the Saints favor as they picked it up on the defensive end. Siena got two steals, a blocked shot, and forced an offensive foul by Niagara. This led to Siena going on a huge 14-1 scoring run during the last three minutes of the first quarter, including eight straight points scored by Aaliyah Jones.
Siena went another big 10-0 scoring run in the second quarter and they were able to hold Niagara scoreless for the final 4:32. Siena held Niagara to a 28 % field goal percentage in the first quarter and 30% in the second quarter. Niagara also turned the ball over 13 times in the first half due to Siena's defensive prowess. Saints led big at the break, 40-23.
Niagara went on a 9-0 scoring run of their own in the third quarter and were able to cut the Saints lead to 44-33. Niagara was able to get to the free throw line several times and made 9 out of 11 at the charity strike. But Siena did not let this rattle them too much and held onto a 52-42 after three-quarters.
"Anything can happen in the tournament and teams are here for a reason, so you have to be able to stop their run, Give Niagara a lot of credit but just give our seniors credit for staying the course, staying composed, and getting high percentage shots when we could," said head coach Ali Jaques.
Siena's game plan was to focus primarily on stopping Niagara senior Forward Victoria Rampado. Rampado torched the Saints in their last meeting, scoring 41 points. This time around Siena held her at bay for the most part only allowing her to score 17 points. Rampado also grabbed 14 rebounds.
"I really challenged Kollyns to take Rampado on and since we've played them the last we've had to adjust some things defensively. We get around and front a lot more now. Really give Kollyns a lot of credit on the defensive end," said Jaques.
Kollyns Scarbrough recorded a double-double and was the second leading scorer for Siena with 20 points and grabbed 10 rebounds.
"We do a great job of having a lot of leadership, even in our underclassmen. When we come in the huddles and they score, we have time to talk, we're always like let's just get a stop. Let's get a bucket on the other side. So it's always one possession at a time. And in the playoffs it's emphasized," said Scarbrough.
Aaliyah Jones led all scorers with 21 points. Jones also had 9 steals, which is a new MAAC Tournament record.
Jones gave her take on how she felt holding the new MAAC Tournament steals record.
"I'm thankful. All I've been though I finally have something I can hold onto. So it feels actually good. I think it will hit more once I share the news with my parents. So I'm thankful, I'm honored, my hard work has paid off in some type of way.
Siena will face Marist Sunday afternoon at 1:30 p.m. in the semifinal at the Times Union Center.