Jones' complete game leads Saratoga to win over Schenectady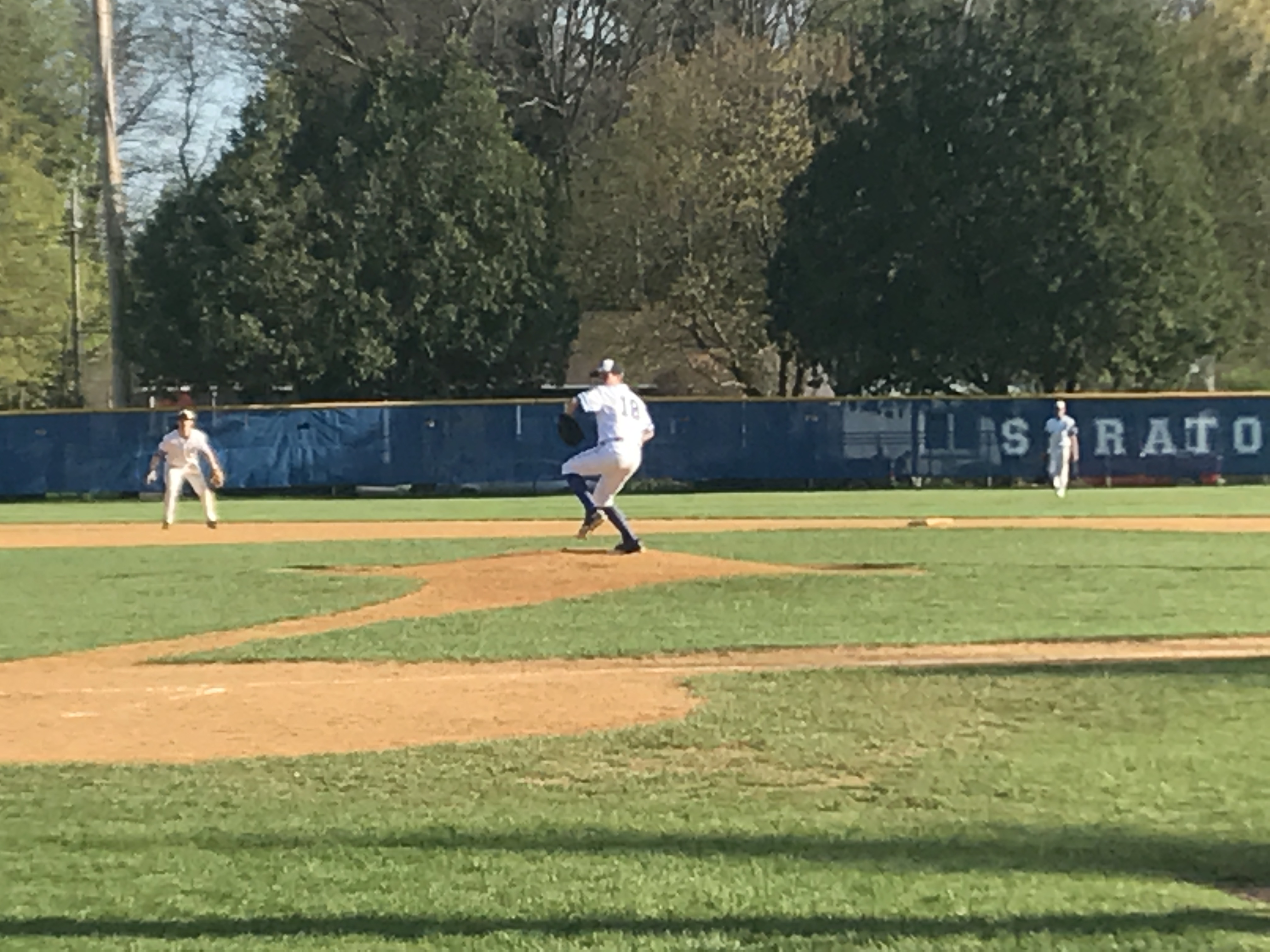 SARATOGA SPRINGS — A complete game from Quinn Jones and a big fourth inning paved the way for Saratoga varsity baseball on Monday as they took down the Schenectady Patriots, 5-2.
In the fourth inning with the game tied 1-1, Saratoga had two runners on and two outs. They called a hit-and-run with Sam Cirenza up, and it worked to perfection. He ripped a ground ball down the third base line, scoring both baserunners, Brian Hart and Devin McArthur, and giving Saratoga a 3-1 lead.
"A guy like Brian Hart, who has pretty good speed, I gave him the green light and he took it," Saratoga head coach Andy Cuthbertson said.
Later in the inning, Dan Eaton and John Irons came through with back-to-back RBI singles that gave Saratoga a 5-1 lead. All in all, the Blue Streaks batted around in the fourth, picking up four runs on three hits off of Schenectady starter Zach Malek.
"Third time (through the order), that's the kiss of death," Schenectady coach John Isabella said.
Schenectady got a run in the sixth inning to trim the deficit to 5-2, but that ended up not being enough as Saratoga proved to be too much for the Patriots.
Throughout the afternoon, Saratoga starter Quinn Jones was huge as he tossed a complete game, allowing just four hits and walked two. He was very efficient all the way, going to just four 3-2 counts and struck out eight, two of them coming in the seventh inning.
"My fastball felt really good today. My curveball was on today which helped a lot. I felt pretty flexible as far as what I could throw, and they're both pretty efficient. I think my pitch count was pretty low," Jones said. "It helps a lot when you're throwing really efficiently, not a lot of pitches, and it's easier to go deep into the game like that."
He was able to keep the Schenectady hitters off balance all day. After allowing his first hit of the game in the third inning, he did not allow another until the sixth and was striking out hitters throughout the game.
"I think his curveball was working, and his change-up was working, so I think guys had to respect the fact that he had a second pitch. I think his fastball velocity was good enough to throw it by guys," Cuthbertson said.
After the win, Saratoga improves to 10-3 on the season. They will play again on Wednesday on the road against CBA. Game time is set for 4:15 p.m.
Schenectady is now 4-9 on the year. They also will be back in action Wednesday, facing Niskayuna at home. First pitch for that game is also 4:15 p.m.