Izzo yearns for his second national championship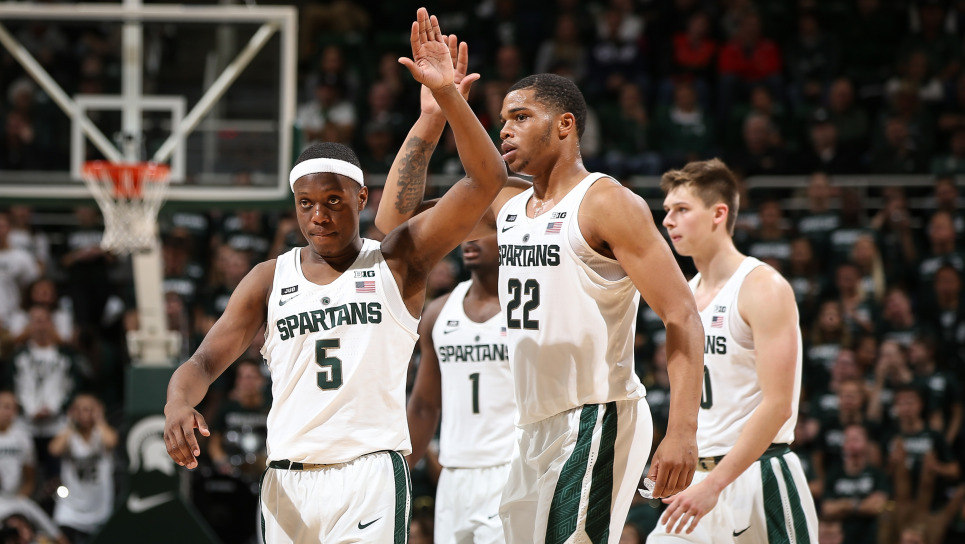 Longtime Michigan State Spartans coach Tom Izzo has built a fine resume in college basketball.
The 63-year-old Hall of Famer accomplished everything he needed to accomplish by going to seven Final Fours, making his 21st straight NCAA tournament appearance in a few weeks, winning seven regular-season Big Ten Championships and five Big Ten Tournament titles, earning eight National Coach of the Year awards and getting a national championship.
He has nothing to apologize for if his career ends whenever. With that said, he wants to be considered one of the best college basketball coaches ever, and that label comes with winning multiple championships. It's been 18 years since he won a national championship, and that can make him antsy. He would love to win at least three or four before he retires. He still has 15 good years in him if he chooses to keep coaching.
Still, time goes fast. It never waits. The urgency of winning another national championship is important for Izzo more than ever. He has to make the most of it right now. This Michigan State team gives him his best chance to win his second national championship.
He has the shooters, a shot-blocker, size and bench to help him achieve his goal. He only has young players that can be game-changers that he hasn't had in the past in Miles Bridges, Jaren Jackson, Jr. and Cassius Winston. This is his best team since his 2000 national championship team.
Michigan State has played like a national championship contender all season long. They are on pace to be a No. 1 seed in the upcoming NCAA tournament if they win the Big Ten tournament. Prior to the conference tournament, they set a school record with 28 regular season wins, which was good enough to win the outright Big Ten regular season title and entered the conference tournament as the No. 1 seed and ranked No. 2 in the nation.
Still, all of this means nothing if they don't win the national championship. Getting to the Final Four should be the bare minimum for them since they were predicted to go there when the season started.
This will all fall on Izzo if they can't get it done. Questions about whether he can win the big one will creep in. That's the way it goes when he hasn't won it in a long time. There has been good college basketball coaches that won one championship, but the great ones win at least two or three. That's why he is yearning to get several more.
Izzo has gone to great lengths to recruit one-and-done players in recent years for him to reach his goal. He has given playing time right away to Bridges, Jackson and Winston with the idea he needs freshmen to help him win a national title. College basketball has become a different game over the years with so many freshmen getting responsibility to lead their team to a national title, and the Michigan State coach had to adapt with the times.
It hasn't been easy for him. Last year, he had to deal with growing pains from Bridges and Winston. They were erratic in shooting, and more often than not, their bodies were not ready to handle the physical play of the Big Ten. The Spartans went through an inconsistent season that resulted to them losing in the second round of the NCAA tournament.
This year, the kids have figured it out. The Spartans are primed to go as far as they can.
But first things first. They need to be tested before the NCAA tournament starts. It starts Saturday afternoon in the Big Ten tournament semifinals when they the play Michigan Wolverines, a team that is coming into their own. Then if they win Saturday, they would face the winner of the Purdue Boilermakers and the Penn State Nittany Lions in the Big Ten championship game. They would prefer to see Purdue win since they can use all the test they can get from a NCAA championship contender.
The Spartans fought off a feisty Wisconsin team in taking a 63-60 tournament victory Friday afternoon at Madison Square Garden. But this is going to be nothing compared to what they will face the next two games in the Big Ten tournament.
Despite the team's success, this season has been trying for Izzo. He had to deal with criticism of not disciplining his former players that were involved in a sexual assault on an ESPN report and hearing about Bridges showing up in an FBI investigation into corruption in college basketball. Also with the burden of high expectations of his program, he had to be even-keeled when it was time to coach.
Only thing that can make this season fun and rewarding for Izzo is winning a championship.