Hoskins, Robinson, true seniors stepping up on Danes D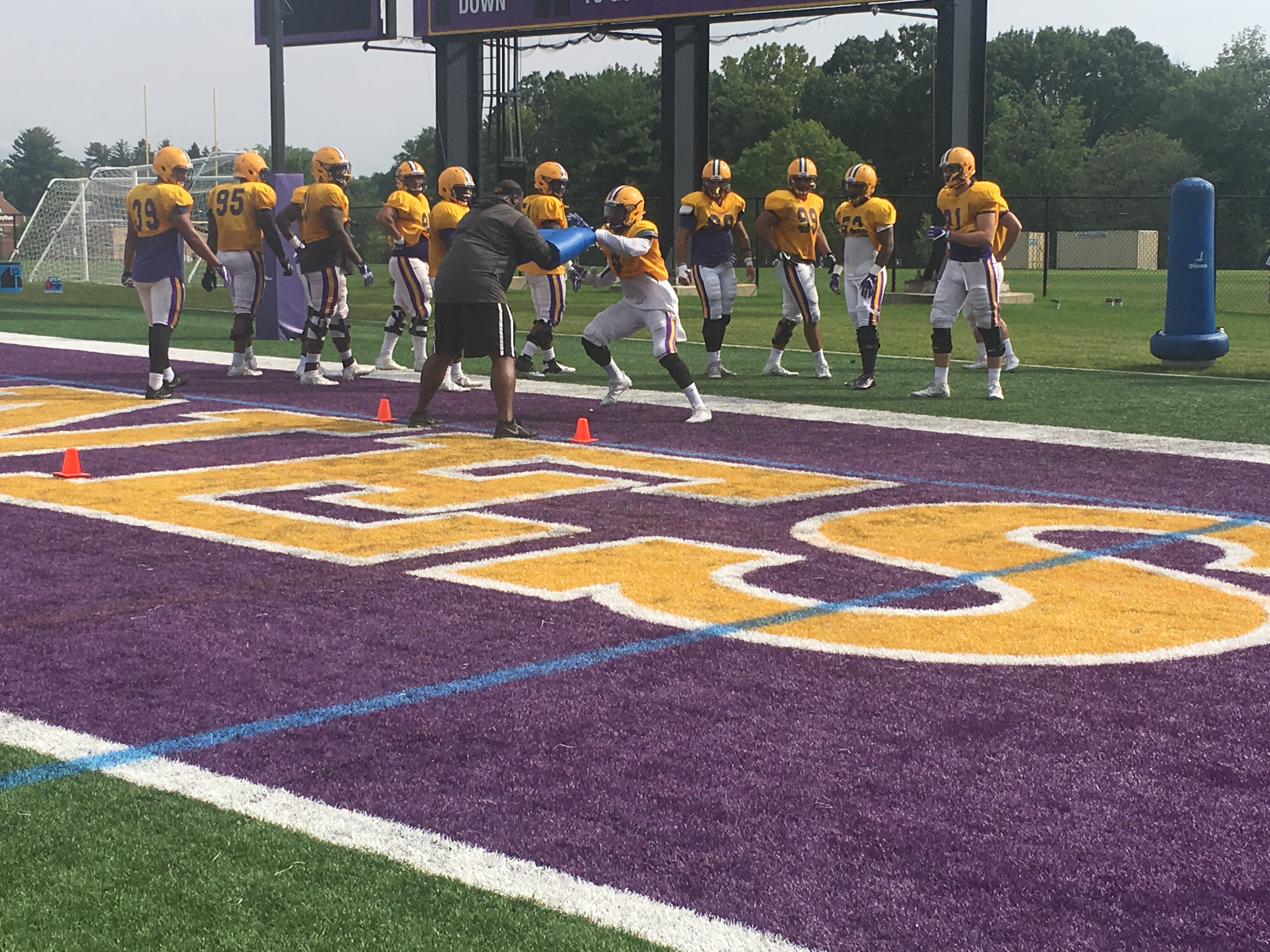 Malachi: means "my angel" or "my messenger," it comes from one of the twelve minor prophets of the Old Testament known as The Book Of Malachi. UAlbany hopes the last chapter for this Great Dane sends them to the playoffs and a message to scouts at the next level.
Senior Malachi Hoskins was All-CAA Football Second Team at defensive linemen in 2016 after recording 82 total tackles and a team leading seven sacks, eleven tackles for loss and three forced fumbles.
Now that he's entering his final collegiate season, Hoskins appreciates every day he laces up the cleats.
"It's been a long journey but I've cherished every moment of it," Hoskins said "Every time I come out here I think about how it's one day I'm not going to get back on this field."
"He has a chance to have an incredible year and I expect him to do that," said Head Coach Greg Gattuso.
If Hoskins wants an opportunity at the NFL, he's going to have to have his best season to date.
"He's going to have to have ten or more sacks and dominate the CAA," said Associate Head Coach Coach/Defensive Coordinator Bernard Clark "At the next level you're not playing Villanova, you're playing guys from the SEC."
"It's been my dream since I was a little boy, hopefully I have a shot," Hoskins said.
Coach Clark is a former NFL linebacker who played for the Cincinnati Bengals and knows from experience how hard it is to make it to the league.
"He's [Hoksins] come to me and talked to me about what he needs to do but there's only 1,696 jobs in the NFL, you could be good enough, but he just needs an opportunity," said Clark.
Clark is one of two NFL representatives on the defensive side of the ball (Delbert Cowsette/Defensive Line Coach) and is one of five coaches on the Great Danes coaching staff with NFL experience.
"Coach Clark's resume is longer than we could ever imagine, it definitely gives you a sense of respect knowing that he's done it at the highest level," Senior Cornerback Jamal Robinson said "He's someone we look up to and he gets all of us motivated, gets us going every single day."
Robinson and Hoskins came into the program together four years ago, the same year as Coach Gattuso. Now that they both have three years of development and game experience, it's time for the two true seniors on defense to become leaders.
"I have a lot of snaps under my belt and I definitely feel like that's an advantage, I'm the only true senior in the back four so I definitely feel like I have more responsibility," said Robinson "I feel like the guys look up to me a lot and I think they respect the fact that I know the defense pretty well."
"I want to build off of last season, now that some seniors are gone I want to be a leader as much as I can," Hoskins said.
One major difference for Hoskins and the team is the lack of long blonde hair from Michael Nicastro. Nicastro was a two-year team captain and the leader of the team. He was also Hoskins roommate.
"I talk to him almost every day, he always tells us how much he wishes he could come back out here just for a day, a game or even a practice," said Hoskins "It just shows you that what you have is precious and to appreciate every day you have here."
"I think Mike [Nicastro] showed them passion and leadership that a lot of them are trying to emulate, which is excellent," Coach Gattuso said.
Nicastro and Abner Logan may have left a void of leadership on defense, but the Great Danes only have one starter that is not an upperclassman on defense (Redshirt Sophomore Eli Mencer).
Along with Hoskins and Robinson, the defense is filled with players with game experience: Redshirt Senior DaeSean Timmons (NG), Junior Nick Dillon (DT), Junior Nick Griffin (DE), Junior Julian Cox (LB), Redshirt Senior Nate Hatalsky (LB), Junior Josh Wynn (FS), Junior Mason Gray (SS) and Redshirt Junior Kareem Brown (CB).
"Game experience is the key to success, when you can retain your guys into their junior and senior years like we have on defense it helps," Gattuso said.
The Great Danes experienced being the eighth ranked defense in the country last season as well as being the best defense in turnover margin (+1.45) while forcing 32 total turnovers.
"We're counting on them [the defense] to be very good this year and if they're going to be our strong they need to keep playing the way they're playing," Gattuso said.
Before Hoskins has his eyes set on the NFL, he has some unfinished business, "That's our main goal, to try and come out and win this conference, make a statement in the country and make a run."