Harvey goes from stardom to disgrace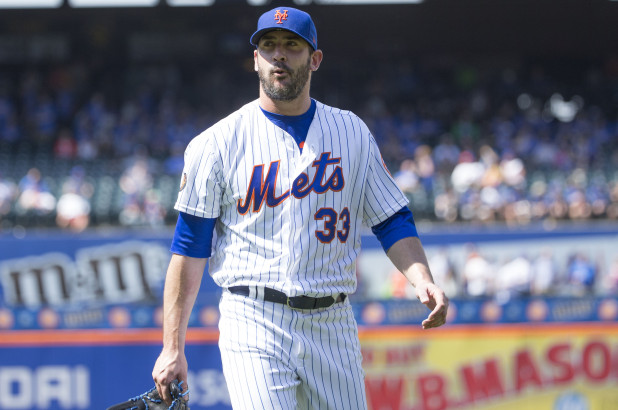 Everyone knew this was not going to work with Matt Harvey and the Mets when the season started, but who would've thought it would have gotten to this point few years ago?
It wasn't long ago Matt Harvey not only own the Mets and New York, but he owned Major League Baseball. He was on the cover of Sports Illustrated once. He was treated like a king by the Mets and the fans since he was winning. He even started in the All-Star Game in 2013. He was the guy that led the Mets' rise to prominence. He was a star in the making by striking out hitters after hitters and winning games where Mets fans would get excited by saying "HAPPY HARVEY DAY!" on his day to start.
Fast forward to now, how did it ever end up like this? Harvey's tenure with the Mets ended Friday afternoon when he was designated for assignment. To make it worse, this happened on a Friday news dump.
Whether Harvey deserved his release is besides the point. It's sad this happened to him and the Mets. He was supposed to be the hybrid version of Tom Seaver and Dwight Gooden. For the baby-boom generation, he was our Gooden. For the millennials, he was their Seaver. Now, he will be mentioned as nothing more than a footnote for this franchise. When we talk about Harvey to our children one day, it may as well be a legend than reality.
We can talk about Harvey's arrogance that doomed him since that's easy for anyone to say. But that's not the case. He never was the same after undergoing Tommy John surgery and being diagnosed with thoracic outlet syndrome a couple of years ago. No one would care about his lack of respect for the game or his conduct or his nightlife if he was pitching well and winning games. His reckless personality actually served as an impetus for his success if anyone can believe that.
Once a pitcher has thoracic outlet syndrome, his career is all but over. Harvey has posted ERAs of 4.86, 6.70 and 7.00 the past three years. He gave up 35 home runs in the last three years, including giving up 21 home runs last season.
This season was not pretty for the once Mets star. He was demoted to relief after going 0-2 with a 6.00 ERA. In 26 innings over four starts, he's allowed 26 hits, four home runs and four walks. He was no better in the bullpen. In four games in relief, he allowed seven runs in six innings, which included the Braves scoring five runs off him in the two innings he pitched on Thursday.
One got the feeling Harvey's time with the Mets was going to be over after his start on April 14 against the Milwaukee Brewers at Citi Field. He allowed four runs and eight hits in five innings in that start, which included him giving up two home runs. He had nothing that night. His fastball gave up on him, and he had no secondary pitches to get anyone out. It was a matter of time until he was out of the rotation.
The Mets tried to make it work by putting their once famous starter to the bullpen in an attempt to get his stuff straightened out. But realistically, they had to know this was a desperate move. Sure Mets manager Mickey Callaway cited Roy Halladay and Cliff Lee working in the bullpen and becoming better starters for it, but that was nothing more than window dressing. Problem with Harvey was he had nothing anymore in his pitches. He wasn't getting anyone out, so it wasn't surprising he flopped as a reliever.
After his relief role against the Braves Thursday, the Mets knew they could not keep this charade going with Harvey. They tried to convince him to go to the bullpen with the idea he was going to reject it, which he did. Credit to Harvey for not going through with this, and he did the team a favor by refusing an assignment in the minors. He wanted to be done with them as much as they wanted to be done with him.
There are two schools of thought about being surprised it ended like this and not being surprised it ended like this. It's surprising because Harvey's stuff was dynamite when he broke through the Major Leagues. No one had a clue how to hit him. It was a thing of beauty watching him strikeout hitter after hitter. Think Bugs Bunny striking out a hitter after three pitches. He was on his way to excellence. It's not surprising because Harvey and Mets have had problems even when he had success, so it was a matter of time until the team got him on his results when he pitched bad.
It ended badly here, but no one should forget the great memories that Harvey gave to the Mets. He put them back on the map when they were rebuilding in 2012. He gave Mets fans reason to be proud of their team again. When he outpitched Stephen Strasburg in April 2013, the chants of "Harvey's Better" reverberated all over Citi Field to the Willets Point station. That was the start of the team's turnaround. It turned out it was the best moment he gave the Mets and their fans.
When Harvey tore his UCL in August 2013, it was the beginning of the end. There wasn't anymore Happy Harvey Days. The Mets stopped promoting him. He became yesterday's news. He won't have his jersey retired at Citi Field one day. He will be remembered more as a footnote to the team's history. There's a good chance he may never pitch in the Major Leagues again.
That's what makes his Mets career more tragic than Darryl Strawberry's and Gooden's.