Greenville softball wins second straight Class C title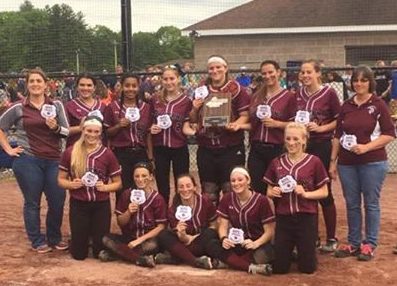 SOUTH GLENS FALLS– The No.6 seeded Greenville varsity softball team picked up their second Section II Class C title in-a-row on Saturday at Moreau Rec. Park, defeating No.5 Lake George 1-0.
The Spartans scored the game's lone run in the top of the first inning. Sophmore Caila Benning doubled on a fly ball to left field to leadoff the Greenville bats. Three hitters later, Benning would score the eventual winning run, reaching home on a passed ball.
Patroon Conference MVP Ava Fitzmaurice pitched a complete game shutout on 106 pitches. The sophomore ace allowed one hit while walking two and striking out nine.
Greenville will look to do what they couldn't last season, make it into the state final four. The team will face the Section 7/10 sub-regional winner in the regional finals at Moreau Rec. Park in South Glens Falls, next Saturday, June 3, at 4:00 p.m. A win will punch a ticket to the Stae Tournament.
For good measure, here is the State's Class C bracket:
2017 NYSPHSAA Softball Championships Class C(function(d){var mp = d.createElement('script'),h=d.getElementsByTagName('head')[0];mp.type='text/javascript';mp.async=true;mp.src='http://www.maxpreps.com/includes/js/widget/widget.compressed.js';h.appendChild(mp);})(document);