Gray can't pitch in New York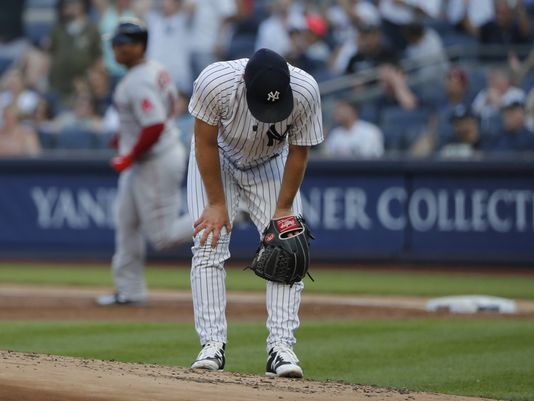 Dear Sonny,
You came to the Yankees with great intentions. You wanted to pitch for a World Series contender, and you wanted to pitch in a market where you can shine. You wanted the challenge.
We were all looking forward to seeing you pitch here. We knew you were great for the Oakland Athletics until you had injuries in recent years. We knew you would not be a pitcher that you were when the A's were a playoff team, but we thought you would be competent.
Let's be honest with each other. It hasn't worked out here, and it's not going to work out. The Yankees tried everything. They thought using a personal catcher in Austin Romine would help, but it hasn't. They tried to make you go five or six innings to make your life easy, and you can't even do that. You always struggle at Yankee Stadium with an 8.25 ERA to show for it. What use are you for the Yankees?
After you took the loss in the Yankees' 11-0 loss to the Boston Red Sox Saturday night at Yankee Stadium, you admitted yourself that it sucks to be the guy that ruins the momentum of your team when they are the best team in baseball four out of five days. Your starts are a throwaway game for the Yankees every fifth day.
We penciled in a loss Saturday night since you were starting. We knew you didn't have it in you to throw a gem against the Red Sox. After all, you never do well against them. You proved our point by giving up a grand slam to some scrub named Rafael Devers in the first inning, giving the Red Sox a 4-0 lead. You sucked the life out of us at Yankee Stadium. From there, the Stadium was so quiet that one would have thought we were watching the opera.
You are now 0-4 against the Red Sox with a 9.35 ERA. If you can't beat the Red Sox, what use are you? You are as useless as Jose Contreras, Jeff Weaver, Carl Pavano, A.J. Burnett, Kenny Rogers, Jack McDowell, Javier Vazquez and Ed Whitson. Like those guys, you are not fit to play in New York. You are a pitcher that is suited to play for a small-market team where there's no pressure.
It's not your fault. It's the way it is. It happens to great ones. Not many great athletes are fit to play in New York. Unfortunately, you are that guy. In a way, we feel sorry for you that the Yankees are trotting you out there. It's not a no-win situation for you, us and the Yankees. When you are out there, we expect the worst which creates negative energy at the Stadium and that has an effect on you and your teammates.
It's like we should have a mercy rule on the Yankees when you are starting. We shouldn't be wasting our time and money when you are out there every fifth day. We shouldn't get to see your teammates be deflated when you have one bad inning. That isn't fair to us.
Because of your struggles, the Yankees are forced now to acquire a starter. That means they may have to give a prospect such as Domingo German, Clint Frazier, Justus Sheffield or Jonathan Loaisiga for a mercenary starter such as Cole Hamels or J.A. Happ or Matt Harvey. There's no guarantee any of those three starters would flourish with the Yankees if one of them is acquired.
The Yankees gave up Dustin Fowler, Jorge Mateo and James Kaprielian for you, and you have rewarded them by being a stiff. Now there's a good chance all three prospects or any one of them will not blossom for the A's, but it doesn't matter. You failed the Yankees, and now we don't want to watch you ever pitch for our team again.
Deep down, your team doesn't trust you. If the Yankees play in the wild-card game, it will be because your starts resulted to losses that cost them the AL East and home-field advantage in the playoffs.
It's too bad the Yankees won't relegate you out of the rotation since they are paying you millions and they gave up so much for you, so you will be starting every fifth day.
We are done with you. We are counting the days until you go to the bullpen.
You are a lost cause.
Sincerely,
Yankees Universe