Focus should be on current Islanders owners moving forward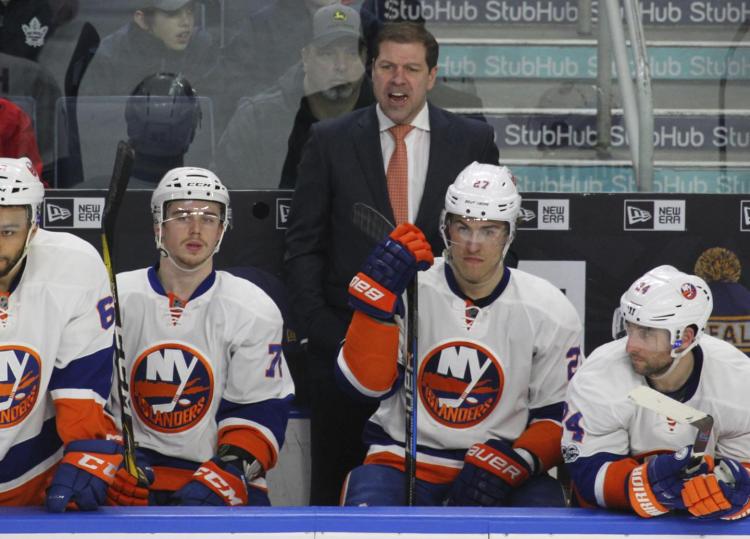 It doesn't matter whether or not pending free agent John Tavares resigns with the Islanders.
It doesn't matter when someone puts a shovel in the ground for the Belmont arena.
What should matter is what will Islanders owners Jon Ledecky and Scott Malkin do about another awful season by the Islanders. They have owned the NHL team for two seasons, and they accomplished nothing other than taking bows for buying the team and getting the Belmont arena done.
Sooner or later comes a time when both owners need to make their mark as owners rather than sit by and do nothing. Two nonplayoff seasons should be enough to do something. The Islanders fans certainly want answers from them. Instead of hiding behind the scenes, those owners need to stand up and be accountable for what was a terrible season. They need to provide answers that fans want to know about the state of the team. They need to apologize to the fans for this poor product. This is on them as much as Islanders general manager Garth Snow and Islanders coach Doug Weight.
It's easy to blame Snow and Weight. They deserve it, but blaming them is hollow when they are still employed despite their awful work. That's where the finger of blame points at the owners. It's their responsibility to fire their employees for incompetence.
The owners have to do soul-searching this offseason. It can't be more of the same anymore. It was a joke Snow and Weight were back last year after the Islanders miss the playoffs, but Ledecky and Malkin can rationalize their decision by citing continuity and the Islanders missing the playoffs by a point. There's no defense for keeping them. Both have not distinguished themselves in their job.
Snow has been with the organization for 12 years. His draft picks have never panned out, and the Islanders had more losing seasons than winning seasons. Yes, the Islanders made the playoffs three times, and they advanced past the first round couple of years ago, but they haven't made themselves relevant in this market and in the NHL.
He did nothing to improve the team this offseason, and he did nothing to address the porous defense in the trade deadline, which was why the Islanders quit in the last few weeks. He never made any attempt to improve the team's defense during his tenure. In his mind, offense wins games rather than defense. That may be true, but it's hard to win playoff games by outscoring the other team when they face great defensive units and competent goaltending.
Snow had enough time. Ledecky and Malkin can't justify keeping him again. It was bad enough the fans did not gravitate towards the team this season by keeping the general manager with so many empty seats at Barclays Center and awful television ratings. There's already apathy with the Islanders. Keeping the Islanders general manager would be an equivalent to a one-finger salute to the fans that actually care about the Islanders.
Yes, the fans can't dictate how the owners should run their team, but poor results should. The Islanders need to be run like a professional organization. There has to be competency from the front office. Too often, the Islanders front office has been okay with losing rather than holding young players accountable for their awful play. That type of approach creates a poor culture, and this is why the Islanders are run the way they are.
It is something ownership has to be aware of.
Whether Weight is a good coach or not is irrelevant. He has to go because he is associated with Snow. If the owners want to bring in a new administration, that means a new coach has to be hired for a new culture to take shape. It's not like he made a case to come back as coach next year with how poorly the Islanders played the last two months. They quit on him, and he seemed to have lost interest in coaching them, too.
Something has to give this offseason. If Snow and Weight are back, it will show not only is ownership clueless in owning a hockey team, but they don't seem to care other than they brought the team just to get a new arena, so that they can improve the value of the team and get real estate value.
It would be discouraging to keep those two back. Retaining Snow and Weight set a ominous tone to this season. Retaining those two would make the new ownership no better than John Pickett, John Spano and Charles Wang.
The honeymoon with the new owners is over. Two non-playoff seasons will do that. Now we are going to find out what they are all about.
Go ahead and worry about Tavares' decision, but don't forget about what the Islanders owners.
Their decisions on Snow and Weight are more of a pressing issue than what Tavares will do.