Finding a point guard essential for Knicks
The inability of finding a legitimate point guard has been why the Knicks stink.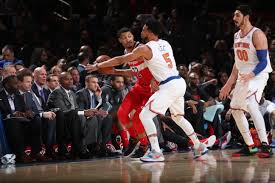 The Knicks have been searching for a point guard the way the Jets have been searching for a quarterback forever it seems. The Jets haven't had a dynamic quarterback since Joe Namath left, and the Knicks haven't had a dynamic point guard since Walt Frazier left. A long time indeed.
Sure the Jets and Knicks tried to fill the position with stopgap players by signing veterans and projects over the years, but they haven't had that player that they can be used for a building block.
The Jets may have found a keeper in Sam Darnold after drafting him as the No. 3 overall pick this spring. The Knicks can't say the same. They don't have a point guard, and odds are they will draft a point guard next season. They could have drafted a point guard, but Trae Young, Luka Doncic and Collin Sexton were all taken before they could make their selection in this year's draft, so they settled with Kentucky starting forward Kevin Knox, being that he was the best player available.
It says here the Knicks realistically know Frank Ntilikina, Trey Burke and Emmanuel Mudiay are not the solution to their point guard woes. It was telling when first-year Knicks head coach David Fizdale did not exactly give a ringing endorsement on any of his three current point guards vying for a starting job.
It took until Tuesday for the Knicks head coach to name his starting point guard, and it's Burke. The only reason he won it was because someone had to be a starting point guard for the Knicks this season with their season opener taking place Wednesday night.
No offense to Burke, but he's a serviceable point guard at best. No one will ever confuse him to Chris Paul, Kyrie Irving or Damian Lillard. Shoot, no one will ever confuse him to Isaiah Thomas, Jeff Teague or Eric Bledsoe. Think of him as former Knicks point guard Chris Duhon, who averaged 6.5 points and 4.4 assists. That won't get the Knicks fans excited, and that won't make the Knicks any better.
He would be a bench player for any other team, but for the Knicks, he's a starter because there are no viable options out there in the trade market or within the team.
The Knicks desperately wanted Ntilikina to be the starting point guard, but he struggled offensively in the preseason games. He is going to play forward since he adds value to the team by playing good defense, which is always going to be good enough to get playing time. Still, the Knicks hoped he would make progress offensively by improving his jump shot and shot selection. They wanted him to be more aggressive on offense heading to camp. He also struggled how to give up the ball when he was being defended.
The bottom line is it has not worked out for him so far.
He is 20 years old, so there's time, but does anyone think he will be great from an eye test? He was underwhelming to watch last year to the point he should have played in the G-League to work on his game. He was a project when he was coming out of the draft, and only disgraced former Knicks president Phil Jackson thought he was a fit because he would be willing to play the dreaded triangle offense.
Maybe Ntilikina can grow into a good point guard one day, but it's hard to believe it will happen here. If the Knicks draft high next year and they are in a position to draft a point guard, they are drafting him.
Commenting on Mudiay is a waste of time. He offers nothing to the team. The Knicks acquired him from the Denver Nuggets thinking they could fix him after he stunk with his first team. He can't shoot, and he can't defend. He is a turnover machine. Of course, he won't play in the Knicks' season opener against the Atlanta Hawks since he is out with a sprained right ankle.
The next great point guard the Knicks will have is either playing in high school or college. This is why the Knicks are going to stink this year and will continue to stink until they get that elusive point guard who can win games and make everyone better.
The Knicks need a point guard who can take command of the offense and play off Kristaps Porzingis. They need a guard who can make shots in crunch time, which they haven't had in the last two decades. They need a guard who can be an extension of the coach as in agreeing on calling the same plays on offense.
Until the Knicks get that guard who can be a difference maker, they will continue to have a championship drought that is 45 years and counting and a playoff drought that is five years and counting.