Enmanuel Valdez walks-off 'Cats in 10th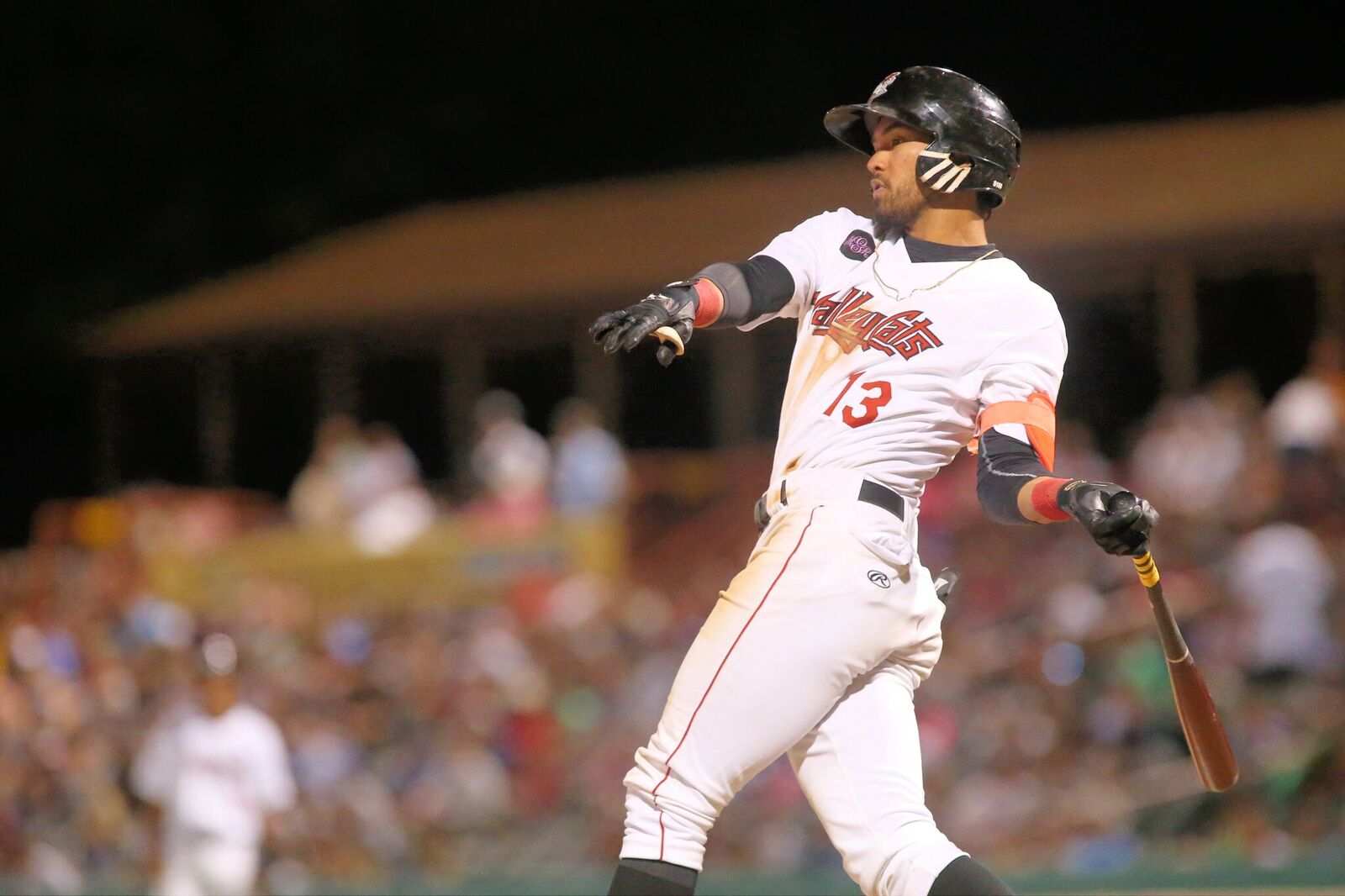 Troy– After two days without baseball action the Tri-City ValleyCats returned home on Tuesday night with a 5-4 walk-off win in extra innings over the Auburn Doubledays.
In the second inning the Doubledays drew first blood. Jacob Rhinesmith took 'Cats starter, Shawn Dubin, deep to left to put Auburn ahead 1-0.
The 'Cats then found some life in the home half of the third. Carlos Machado reached on a leadoff walk then advanced to second on a wild pitch. After Oscar Campos reached on an E5, manager Jason Bell called for a successful double steal of second and third base which set up a Jeremy Pena sacrifice fly to right to tie the game at one.
Then in the top of the fifth the Doubledays reclaimed the lead. Washington Nationals top ranked prospect Victor Robles hit a slow dribbler up the third base line for a hit that  brought home a runner from third for a 2-1 lead.
Carson Shaddy, a member of Arkansas's national runner-up team, extended the Doubledays lead in the sixth. Shaddy connected on a 1-0 pitch from 'Cats reliever Hansel Paulino for a two-run home run deep to left field, putting Auburn ahead 4-1.
However, the 'Cats responded in a big way in the bottom half of the sixth. With two on and two out, Machado sent a 1-1 changeup 405 feet over the left field fence, barely hooking the foul pole to stay fair, to tie the game at four and send the 3,441 fans at "The Joe" into a frenzy.
"I went up to bat focused looking for one pitch," said Machado after the game through a translator. "They were throwing me all over the zone so I was looking for one pitch, the changeup, and it was a good result."
When asked if he knew if the ball was fair or foul, Machado said with a smile, "At first I was unsure but at the end I knew it was fair."
Both teams remained tied at four until the 10th inning. With the bases loaded and one out in the top half, 'Cats reliever J.P. France came on in relief for Tim Hardy and induced a 6-4-3 double play to escape a what was bases loaded and nobody out jam.
"It's always stressful but it isn't anything that I haven't experienced before in college," France said. "To me, this is when I shine because I know I can't mess up so that's when my best stuff comes out. I love high pressure situations."
Manager Jason Bell took note of France's efforts in extra innings.
"It's tough, especially in the circumstances of the inning and nobody out and bases loaded," Bell said. "I think he did a great job competing right away
With a bases loaded, one out situation of their own, the 'Cats had a chance to make their first home extra innings game of the season a memorable one. With Enmanuel Valdez at the plate, he took a 0-1 pitch and snuck it between the first and second basemen into right field to deliver the walk-off hit.
"I was ready for the at bat, I was looking forward to it," said Valdez after the game through a translator. "I knew I just had to put the bat on the ball because in that situation anything does the job."
The ValleyCats (21-15) and Doubledays (18-17) are set to meet again at 7 p.m. on Wednesday at Joseph L. Bruno Stadium.