Don't sleep on Michigan's NCAA championship chances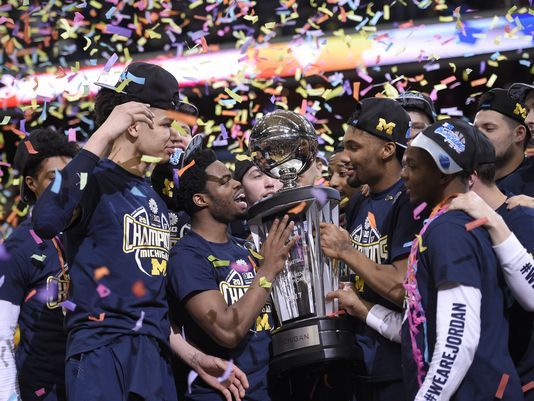 Michigan State and Purdue are two Big Ten teams that are brandied about when one handicaps any college basketball team's 2018 national championship chances.
Here's another team that should be considered a NCAA championship contender: The Michigan Wolverines. A team that no one is talking about for some reason. All they have done is go 25-7 and 13-5 after a 77-71 overtime victory over the Iowa Hawkeyes in their Big Ten tournament opener Thursday afternoon at Madison Square Garden.
They have a six-game winning streak to show for it, not to mention they are ranked No. 15 in the first half and get stops despite their two best players being fouled out in the game in Moritze Wagner and Muhammad-Ali Abdur-Rahkman.
All the Wolverines do is win year in and year out. Disgraced coach Rick Pitino said it best about them as the Golden State Warriors in preparation of his Louisville Cardinals' second-round NCAA tournament matchup against them last year. He made that claim based on the offense by both teams being predicated by 3-point shooting. Their defense isn't shabby, either. Their defense is the best in the Big Ten, and this year's defense is the best defensive team ever under Michigan coach John Beilein. One can make a case their defense has won more games this year than their offense.
What was impressive about their victory was how they fought off a feisty Iowa team by finding a way (you guessed it) to make outside shots after not making a single 3-pointer in the first half.
This is where coaching matters. This is where head coaches earn their millions in college basketball. Beilein always has his players prepared to be in a position to win, and it was coaching once again that had the Wolverines hang in there against Iowa. He entrusted his shooters to keep shooting despite their struggles, and his players were disciplined and composed defensively in overtime. Players feed off on coaches that know what they are doing, not to mention having confidence in his bench players when they are called upon to step up, which was the case with Duncan Robinson getting minutes out of necessity, and scoring 11 points of the bench in the process along with the struggling Charles Matthews snapping out of his shooting funk by scoring 16 points.
Beilein's 1-3-1 zone defense will always give Michigan a chance to be in the game, and it played a role in getting Iowa to miss shots in overtime. With teams not familiar with his defense, it will serve Michigan well come NCAA tournament time.
No one had any more questions about the 11th year Michigan head coach when he coached the Wolverines to an unexpected Final Four appearance five years ago. He sustained many winning seasons prior to that run. Hard to believe, but his best coaching moment at Michigan was last year when he coached Michigan to a Big Ten tournament championship after his team was involved in a plane crash heading to Washington, D.C., which was where the tournament took place. It would have been hard to focus after what that team gone through, but somehow and someway, they were able to win four days in a row of that tournament.
Michigan has a shot to win it all or go far in the NCAA tournament because of Beilein. Coaches matter this time of the year, and there's no coach who is more suited to win games than him. He plays the matchups well and his 1-3-1 zone defense gives him the advantage.
It wouldn't be surprising if they win the Big Ten tournament for the second straight year. Only thing that should be surprising is why they are overlooked every year when it comes to being a Big Ten contender or a national championship contender. They always play well year in and year out. Maybe because Beilein is not a self-promoter like John Calipari or Mike Krzyzewski or any coach that is a slicked salesman. Maybe because Michigan does not get that one-and-done guy that elite college programs have. Maybe because they are in the shadow of Michigan football. Whatever it is, it's strange.
Anyone that is a basketball purist can appreciate the way Michigan play. Their players are unselfish when they run their offense by passing the ball rather than just shooting it. These guys think defense first in setting up their offense.
This is a team worth rooting for to win it all. In this day and age of college basketball being corrupt, Beilein seems to be a coach that is above that. He comes off as a coach who wants to do the right thing by getting guys who want to come in for four years. He is not dealing with players who only use the college basketball program just to go to college. It's easy to be cynical with anyone, but this Michigan coach is different. I can speak for him since I interviewed him 12 years ago for a website when he was the head coach at West Virginia, and I got the vibe that he is a coach that has ethics rather than take shortcuts.
For anyone that is turned off to what's going on in college basketball, Michigan is everything that is good about the corrupt sport. The NCAA could use some good news, and Michigan is the type of team that can do it by winning the NCAA Tournament.
Count Michigan out at your own risk. The NCAA title contenders know better than to count out a Beilein team in March.
The team that plays the best in March tends to win it all more often than not.
Michigan fits that criteria.