Despite uncertainty at QB, Great Danes ready for 2017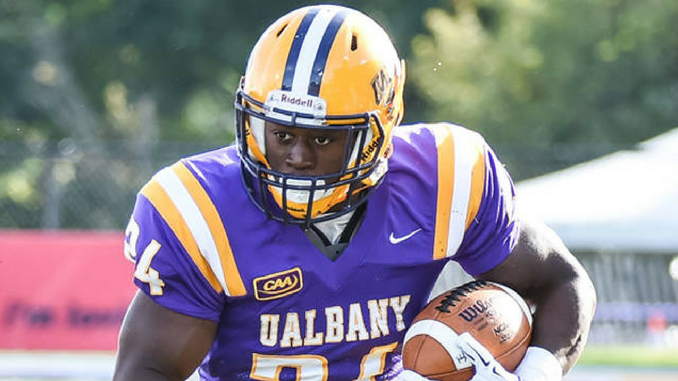 "I'm excited, chomping at the bit, I don't think OD is ready, but we are," said Junior Quarterback Neven Sussman at UAlbany football Media Day on Tuesday.
There are 31 days until the Danes open their season at Old Dominion (OD) and despite Sussman's confidence; the team is waiting for their QB to elevate his game.
Sussman and Redshirt Sophomore Will Brunson are best friends, and they're battling for the starting QB position.
"It's up to them, right now we're at kind of a 1A/1B, and I would like one of them to step up and be the guy, but I can't force that, they have to earn it," said head coach Greg Gattuso.
Brunson and Sussman both played under center for UAlbany last season. In four games, Brunson had 285 yards and a TD. He also played well in two wins at the end of the season. But Sussman was UAlbany's primary man in 2016, throwing for over 1,000 yards and seven touchdowns as well as 121 rushing yards and a rushing touchdown.
Coach Gattuso and his staff have not created a timetable for the quarterback decision. "I think both of them are so close as people and friends, they're both good football players, and they're both going to play for us at times."
"They're almost like one person to me right now, and I love that, and that's rare," Gattuso said. "Usually when the QB's are battling, there's problems and selfishness, but there's just none of that with them."
The two aren't just competing with one another; they're helping each other understand the offense and grow as leaders.
"Will [Brunson] and I since we've been here have learned so much about all of it we can take the whole picture in and assess things instead of taking things for what they're called and just going with it," Sussman said.
"I like what we're getting out of them, I think they're both in command, and they both have things they do really well," Gattuso said. "I think they're both going to help us win football games this year."
UAlbany started 5-0 last season and finished 7-4, missing the playoffs by a slight margin. On top of consistent quarterback play, the team's success will be helped by 2016 FCS Third Team All-American and 2016 All-CAA Football First Team running back Elijah Ibitokun-Hanks, who's one of four non-seniors, of 27 to earn 2017 Athlon Sports Preseason FCS All-American honors.
Ibitokun-Hanks was fourth in all of the Football Championship Subdivision (FCS) and first in the Colonial Athletic Association (CAA) with 1,401 rushing yards and second in the CAA with 16 rushing touchdowns. His season ended in the first half of the UAlbany's last game of the season against Stony Brook when he completely tore his ACL and meniscus in his left knee.
As of August first, the Great Danes star is cleared to do everything, "It feels great, I'm confident, and it's ahead of schedule," Ibitokun-Hanks said.
"EB is the lifeline of the team, he's the heart and soul of the team, he's the leader, and he's the guy we all respond to," Sussman said. "He just might be back and better than ever."
For Ibitokun-Hanks, he won't accept anything less. "I don't have many expectations; I'm just trying to do better than last year. It would've been the same mentality if I was healthy."
"If I come back and rush for 1,400 yards again than that to me is a loss of a season, and I won't be happy with myself," Ibitokun-Hanks added.
"Ultimately, EB does a good job of knowing what he's supposed to do and if he has a great year, it's going to be because he's taking care of his own business," said coach Gattuso.
Regardless of who wins the quarterback battle, both Sussman and Brunson will both benefit from being able to hand off to No. 24.
"You can tell just being around him [Ibitokun-Hanks]; he's something special," Sussman said.
Whether it's Sussman or Brunson leading the offense, Gattuso and the rest of the team have appointed a motto for the 2017 season: Every Rep Matters. Gattuso said, "That is directly related to us letting some slip away last year."
"7-4 is great, but 9-2 would've been even better. I think everyone understands what we have to do to get in the playoffs this year," Gattuso went on to say.
"I want to make a run for a chip [championship]; we want a ring, Ibitokun-Hanks went on to say.
"The playoffs are always our goal, absolutely," Sussman added. "We want to be contenders in the CAA, we're ready, we're capable, we have the bodies, and we have the talent."
The Great Danes open with two away games at Old Dominion and Morgan State before their home opener on September 16th against Monmouth.