Danes weather reigning champs in front of record crowd at SUNY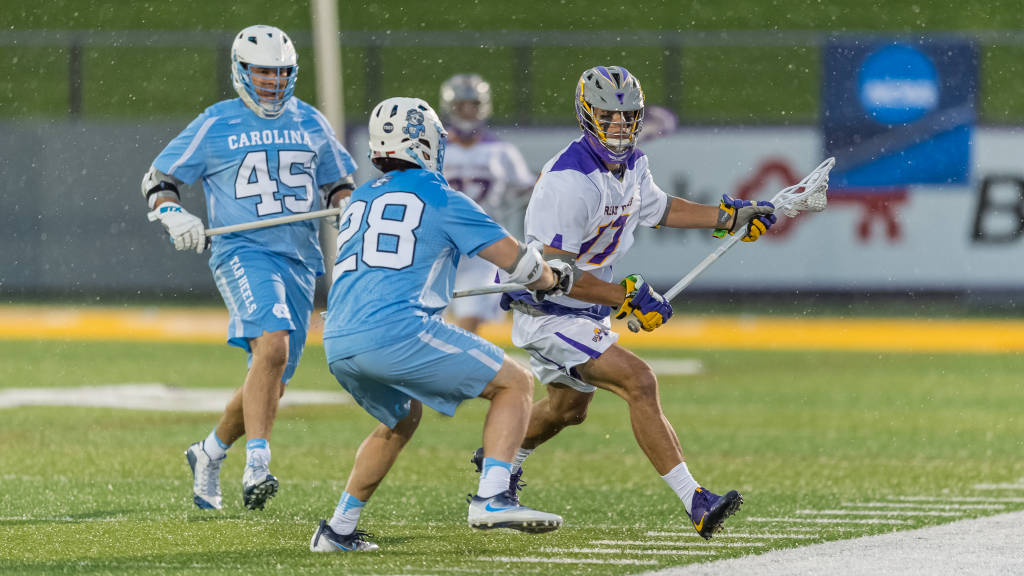 ALBANY — The Great Danes jumped out to a 14-3 lead in the first half and despite scoring just once in the second half, it was enough to withstand a furious comeback attempt by North Carolina. UAlbany advances to the quarterfinal winning 15-12.
A record 6,472 very wet lacrosse fans packed into Tom and Mary Casey Stadium for 8 seed UAlbany Men's Lacrosse NCAA tournament first round match up against reigning national champion UNC.
"This was quite possibly the best athletic event I've ever been apart of," said UAlbany Head Coach Scott Marr.
"It was so awesome to have so many fans there supporting us, it was incredible," said Goalkeeper JD Colarusso.
A sportscenter top-10 worthy goal by UNC's Chris Cloutier gave the Tar Heels an early 1-0 lead, UAlbany would then score six unanswered goals and followed UNC's second goal with a seventh score right before the end of the 1st period.
"They were spectacular in the first half, just relentless," UNC Head Coach Joe Breschi said.
UAlbany shot 14-26 in the first half and won 15 of 19 face-offs.
"In the first half nothing went wrong," said Marr "I told them in the lockeroom that was the greatest half any team I've been on or been apart of seen play."
Freshman TD Ierlan certainly helped the Great Danes get off to a hot start by going 10/10 in face-offs in the first period and winning 23 of 30 in the game.
"You're going to lose some face-offs, you're never going to be perfect," Ierlan said "No matter what when the ball is on the ground, go chase after it."
"The only thing I say to TD before every game is 'compete'," Marr said "He does it on his own, he's a tireless worker and he prepares himself as well as anyone I've ever seen."
UAlbany went into halftime soaked with an eleven point lead. But Marr and his team knew that adversity was on it's way in more ways than just precipitation.
"Lacrosse is a game of runs, we knew with that lead at half that we didn't want to get complacent and try and build on it, but they came out hot and gave us a punch," said Attacker Connor Fields.
Fields, a Tewaarton finalist scored 51 goals and recorded 108 total points in the 2017 season. Fields had one goal and four assists in UAlbany's win over UNC.
"We were just trying to find the right match up and get the ball to whoever was hot at the time," Fields said.
Fields is now up to 113 points on the season and is tied for sixth on the all-time NCAA D1 Lacrosse single-season points record with Lyle Thompson, a "Great" Dane. Lyle and his brother Miles Thompson hold four of the six top spots on that list. Fields is in elite UAlbany and NCAA company.
The Great Danes were held scoreless for more than twenty minutes of game-time and over an hour of real-time. UNC went on a 9-0 second half and held UAlbany scoreless in the 3rd period. It was only the third period this season that UAlbany was held scoreless.
UNC would find themselves drenched and only down two late in the 4th period. UAlbany's Senior Midfielder Adam Osika put the nail in the coffin with a goal at the 5:49 mark.
"We were getting great shots there," Osika said, "It felt good to get that last goal and put a halt to to there run."
UAlbany will play the winner of tomorrow's match up of 1 seed Maryland and Bryant in Delaware next Sunday.
But until then, Marr knows how important this win was for the program, "To date it's the greatest accomplishment we've had, to knock off the defending national champions, that's as good as it gets."
-Randy Hammond – @RandyTHJ