Danes adjusting to young, inexperienced offensive line at camp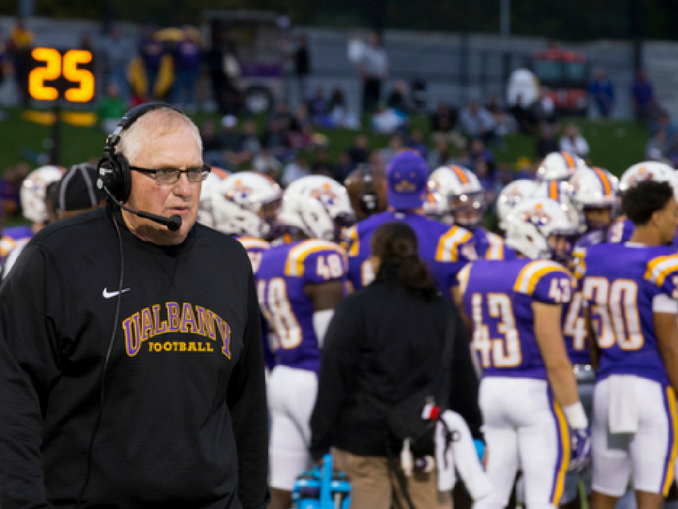 Only three of the current offensive linemen (OL) on the UAlbany football roster have game experience for the Great Danes, and only one of them has started a game.
"The biggest concern is game experience; they lack it. Timmy [Wade] is the only one who really has game experience," UAlbany Offensive Line Coach Jim Sweeney said.
Redshirt Senior Tim Wade is the only senior on the OL and is expected to be one of the team's starting tackles. He's also taken it upon himself to be a leader.
"I have to help out the younger guys as much as possible; I have to be a leader and a role model to the younger guys to show them how to be successful," Wade said.
"Mr. Wade is the lone senior of the group, and he's been doing a pretty solid job," Head Coach Greg Gattuso said, "He needs to continue to push himself to be a strong leader up front."
Wade has high expectations for himself and for the team in this season, even with an inexperienced OL.
He aspires to be the best OT in the Colonial Athletic Association (CAA) and has been working towards that goal. "I try to nitpick every time I watch film, don't lean too much, be patient, strike my hands, even more, have faster feet and have better footwork," said Wade.
Like the rest of the team, it's playoffs or nothing for Wade in his last collegiate season.
"I definitely want to make the playoffs," said Wade "Being the last team out last year hurt a lot of guys, especially the seniors and I don't want to have to go through that."
The Great Danes lost seven upperclassmen on the OL from 2016: Matthew Campion, Kevin Malloy, Chili Mba, JP McCauley, Nick Nerolien, Michael Senn and Adam Wierbinski.
"The thing is last year we were the veteran group, and the defensive line was the younger group. Now, the tides have turned and it's their turn to make us better," Coach Sweeney said.
Two players that have turned some heads in the first two weeks of training camp are Redshirt Junior Luke Ritter and Redshirt Sophomore Sam Davis.
"Luke Ritter had a really good spring and is definitely showing out in practice;" Wade said, "He's being very vocal and helping me out on the OL."
"We have 22-23 practices left to make these guys who we want them to be, and I'm happy with some of the progress, especially from the younger guys, " said Gattuso.
Gattuso and Sweeney are rotating linemen with the first team offense to see who will step up and earn starting positions. Along with Ritter and Davis, Redshirt Freshman Corey Christian, Redshirt Junior Jack Dudzinski, and Redshirt Sophomore Sean Kennedy are battling for playing time.
"They're getting a lot better, we're really proud of them and we're excited to get after it on September 2nd," said potential starting QB Will Brunson.
"Those guys just lack experience, and that's an important component of the offensive line," Gattuso said.
So what is the mindset of the coaching staff when they have such a young position group that is one of the most important on the team?
"I try not to baby them," said Coach Sweeney "They have to grow up, some don't have time to be freshman, they might have to go out and play against a 21-22 year old man."
Sweeney started four years at the University of Pittsburgh from 1980-84 before being drafted in the second round by the New York Jets where he would start at C for 11 seasons. He would be named to the All-Time Four Decades Team after starting 158 consecutive games.
The 16-year NFL veteran hopes his experience can help his OL through any situation.
"Hopefully they learn from me, and the things I went through and I can relate to, and they can rely on me, to be honest with them," he said. "I've been through a lot of games in my life, and I have a good memory still and I understand that things happen."
In 2016, Coach Sweeney's OL helped RB Elijah Ibitokun-Hanks earn Third Team All-American and All-CAA Football First team honors after rushing for 1,401 yards and 16 TD's.
With the change in the OL itself, the backfield is still the same.
Brunson said, "Having a pre-season All-American helps the offense a lot, doesn't it?"
"It's a huge boost of confidence," said Wade. "We know that maybe if we don't block a guy or drive a defensive linemen off the ball, he'll still be able to have that vision and quickness and make those cuts and help us out as offensive linemen."
"We know that if we give him a crack, he's going to find it, and he's going to make us look good," Sweeney said.
A player of Ibitokun-Hanks level draws a lot of attention, and the Great Danes know they're going to see a lot of eight-nine man fronts in 2017.
"I think everyone is a little more comfortable knowing there's a back with big play capabilities behind them," Gattuso went on to say. "But we need output from everybody in order to be a better team."
"I tell my guys all the time that their blocking doesn't have to be pretty, we can win by blocking ugly," Sweeney said, "As long as we're physical and staying after the defense, we'll get credit when credit is due."
Wade hears that from Coach Sweeney and has a goal in mind for his unit, "I want defenses to say 'oh snap, we've got UAlbany, they're physical upfront, they get after you every play, and they play whistle to whistle,' that's what I want us to be known for."
For continued coverage of UAlbany Football, follow Randy Hammond on Twitter: @RandyTHJ