"And the winner of the 2012 Heisman Memorial Trophy is…"
There was a long pause. Millions of people were glued to their TV's, waiting to find out whether Manti Te'o, Johnny Manziel, or Collin Klein would be the next words they hear.
"…Johnny Manziel."
Forever etched in history, Johnny Manziel had just become the first ever freshman to take home the most prestigious award. In his freshman season, Manziel threw for over 4,000 yards and rushed for over 1,000 more. In addition to winning the Heisman, he won the Davey O'Brien Award, Manning Award, Associated Press Player of the Year, Sporting News Player of the Year, SEC Offensive Player of the Year, Consensus All-American, and first-team All-SEC. Manziel spent one more season at Texas A&M and then made the decision to enter the 2014 NFL Draft.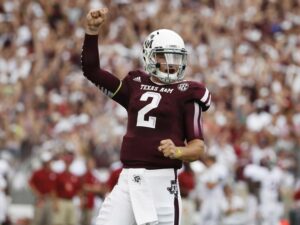 "Undraftable" is a word some some general managers used for the quarterback, while others called him "a rare competitor", but that didn't effect Manziel. During his pro day, "Johnny Football" completed 64/66 passes in an all-around jaw dropping performance, yet the criticism still came. The worst, coming from former NFL Head Coach Barry Switzer:
I'm gonna tell you. I said Johnny Manziel is … I don't like his antics. I think he's an arrogant little prick," Switzer said. "I've said that and I'll say it again. He's a privileged kid, he's embarrassed himself, he's embarrassed his teammates, his program. He's embarrassed his coach. And they'll all have to defend him because they have to coach. I know that. I spent 40 years in the damn game so I know how it works.
May 8, 2014 was the biggest day of Johnny Manziel's life. Twenty-one teams passed on him, but eventually he heard his name called on draft night, making him the newest member of the Cleveland Browns. He had everything a young adult could ever want. The fame, the money, friends, family, and one of the best jobs in the world – a franchise quarterback in the National Football League. It was at the highest point in his life when Manziel took a turn for the worse, and he will be the first person to admit that. Just four short years after winning the Heisman Trophy, Manziel woke up and asked himself, "What do I have to live for?"
Missing team meetings, partying, drinking, using different substances – the stories you heard on ESPN were no longer about what Johnny Manziel was doing on the football field, but instead, what kind of mess he was getting into off the field. Constantly going in and out of rehab, it came to a point where Manziel questioned what he had to live for anymore.
"I got so low to the point where I questioned what I was doing and if my life was probably really worth living to a point anymore and got really down and really had to sit and reflect and look on what I was doing every day," Manziel said on ESPN.
Eventually off the field controversies led to the Browns releasing Johnny Manziel, leaving him without a job, and without hope. For a while, Manziel cut football out of his life and just focused on bettering himself and admitting that he had a problem.
"It may be a little scary at times, and it took me a long time to come to terms and accept the fact that this is the way I am. But at the end of the day, this is the way I'm made. You're made your way and I'm made mine," Manziel said in an exclusive interview with Connor Hall.
It's not just the alcohol that he struggled with either. What many people don't know, is that Manziel was diagnosed with bipolar disorder, which he revealed has changed his life. Manziel added that accepting how he is helped him become the best Johnny Manziel he could be and that anyone else who struggles, whether it be with mental illnesses or with anything, must acknowledge their problems to become better.
"It's not easy. It took me months, even years to come to grips with who I am. I didn't want to be the guy who had to take this medicine everyday to be who I truly am. I didn't want to be that guy. There was such a negative stigma around mental illness and bipolar disorder that I was embarrassed by. Once I accepted the fact that this is who I am, and this is what helps me be a better person and be the person I want to be, I was able to turn the page and see a real change," Manziel explained.
Recently, athletes such as DeMar DeRozan, Kelly Oubre, and Kevin Love have come out with their stories of mental illnesses and their everyday struggles. Manziel was glad to see these athletes share their stories for a number of reasons, but mainly to show people that athletes are humans that have problems as well.
"That's the biggest thing. You're sitting here interviewing me, you don't know me from anything. But at the same time, I sweat the same way you do, I bleed the same way you do, and I have the same problems you do," Manziel said. "You have your everyday struggles and so do I. Listen, athletes are humans too. We're not superhuman, we aren't aliens. We are just like anybody else."
These stories help people realize that athletes aren't just the famous, insanely rich people that you see all over television and social media. They are humans that struggle everyday with normal, human problems. While they may not have to worry about cleaning their house, or paying their rent, they are still susceptible to family problems, family or marital issues, and addiction. If one thing is for sure, athletes like Derozan, and Oubre help bring awareness to these topics that people are deathly afraid to talk about.
"From our position, if we get people to even Google it, or even look into depression, anxiety, bipolar – any type of mental illness, any type of thing that affects you mentally, even if they just look into it," Manziel explained. "I feel like that's the platform that we have and it's a lucky thing to be able to have."
Akil Bordelon is a trainer at JLT in Los Angeles, a premier football training spot where stars like Odell Beckham Jr, Saquon Barkley, Mercedes Lewis, and Von Miller workout regularly. Since Manziel has opened up about his struggle with addiction and bipolar disorder, he has seen his life take a complete turn for the better. Eyeing a return to football, Johnny has spent the majority of the past few months working out with his trainer Akil alongside other standouts like Odell Beckham Jr. and Saquon Barkley. Manziel credits Bordelan, among others for helping him get back into the best shape of his life both mentally and physically.
"Working out again makes my day so much better. It's fun to come in here and be with Akil, Jamal, Alex, and these guys. We have a great group of guys and I feel like I'm in the best shape of my life. It's easy to say that when you are having fun doing it."
Manziel has only been training at JLT for a year, but he has certainly left an impact on the him, along with the other trainers and athletes he works with.
"He brings life and energy to every workout. Everybody loves when he comes to the gym and enjoys working out with him. Johnny might be the most loved guy by the athletes we train," says Bordelan. "Everybody likes J-man. People love his drive and the energy he brings in the room."
When the whole world is against you, it would be very easy to flip that and be rude to others around you. Some would call Manziel "a cocky kid" and often call him "arrogant", but the truth is, he is just the opposite and he proves it time and time again, according to Bordelan.
"Johnny treats everybody with the up most respect. He will treat the janitor with the same respect as the owner. He makes sure he will go out his way to shake everybody in the buildings hand and introduce himself. He's just that type of guy."
It could be with the Canadian Football League or the NFL. One way or another, Johnny Football will be tossing passes in a game before we know it. For a while, that seemed like it would never happen. Analysts have doubted his return, football fans have doubted his return, and even Manziel doubted himself and whether he would ever touch a football again.
"At a point in time, I doubted myself and I doubted my ability. I even doubted if I was ever going to make it back. I doubted if I was ever going to go to a pro day and have scouts be interested in me," explained Manziel. "I doubted if I would ever step on a football field again."
Now, the new Johnny Manziel is on the radar of NFL teams. After participating in pro days in front of all 32 NFL teams at Texas A&M and at the University of San Diego, Manziel is hoping that just one team gives him a chance to play the game he loves again.
"I noticed [through his workouts] that he really misses playing the game he loves and cherishes. [Johnny] just wants one more opportunity to show everybody that he still has a lot left in the tank and that he can prove people wrong," Akil said.
Johnny's return to football isn't only taking place on the gridiron or in the weight room. It's taking place online, and you can be a part of it. Manziel recently launched an apparel line, with everything from shirts to hats to memorabilia packages. The line is called "Comeback SZN." Believe it or not, the initiative has played a huge role in maintaining Manziel's positivity outside of football.
"This has been a huge thing helping me turn the page mentally. It's insane how many different countries, how many different people, and how many states around the United States that have rocked with me and "Comeback SZN" and shown support in that way. I get a chance to interact with a lot more fans through the orders and stuff."
The quarterback went on to explain that it's a lot more than just the fans buying his clothing. It's the support and love that makes Manziel truly appreciate what he has now.
"I've just seen so much love and so much support that it's changed [me]," said the former Heisman Trophy winner. "For a while all I saw was the negative and the hate. Now to see a lot of the love more than I see the hate is really cool. I feel really, really blessed and fortunate to be in that situation."
Very few people know what it's like to wake up and feel like life has no meaning. Johnny Manziel knows what it's like to wake up with a lot of money and all the fame one man could ever want. A Heisman winner, an NFL QB, all the money in the world… he was living the life that every 22-year-old dreams of living. But he also went through times that nobody can even imagine going through. Between the alcohol and the drugs, Manziel struggled to find himself for a number of years. Just a few years after winning the Heisman, Johnny Football looked in the mirror and asked himself, "What do I have to live for?" Despite all that, Manziel is making a push back to the top. Nobody is forcing Manziel to work out. Nobody forced him to try and return to the game of football. In fact, very few people still believe in his ability to play football. You can love this young man, or you can despise this young man. But there is no doubt that Johnny Manziel changed college football forever and proved that you can be successful as a smaller, mobile quarterback. He's hoping to prove to people that the Johnny Manziel that shook the college football world is not a fluke, and most importantly, his comeback is not a fluke.
"Listen, there are a lot of people who have never wavered and stuck by me this whole time. You know, my play and what I did at A&M has impacted people for years and years to come. But at the same time, I know that there is a lot of people I have let down and that aren't fully on board. They may think I'm just blowing smoke and maybe this is just another Johnny Manziel "phase" that he's in where he wants to play ball again," he said. "That's not the case at all. I'm truly dedicated for the first time in a long, long time and I'm doing well." Manziel explained.
Whether you like it or not, Johnny Manziel is going to be a professional quarterback again, and regardless of where he ends up playing, he will do so with a chip on his shoulder and with something to prove to himself, and to the doubters. Be it the CFL or the NFL, Manziel is grateful to have a second chance and will certainly look to make the most of it.
"To the people out there who have stuck with me, I appreciate it. For the people who aren't on the train, just wait on it. I'm gonna prove a lot of people wrong, but I want to prove myself right."
-Connor Hall (@ByConnorHall)