Colonie advances to Class AA final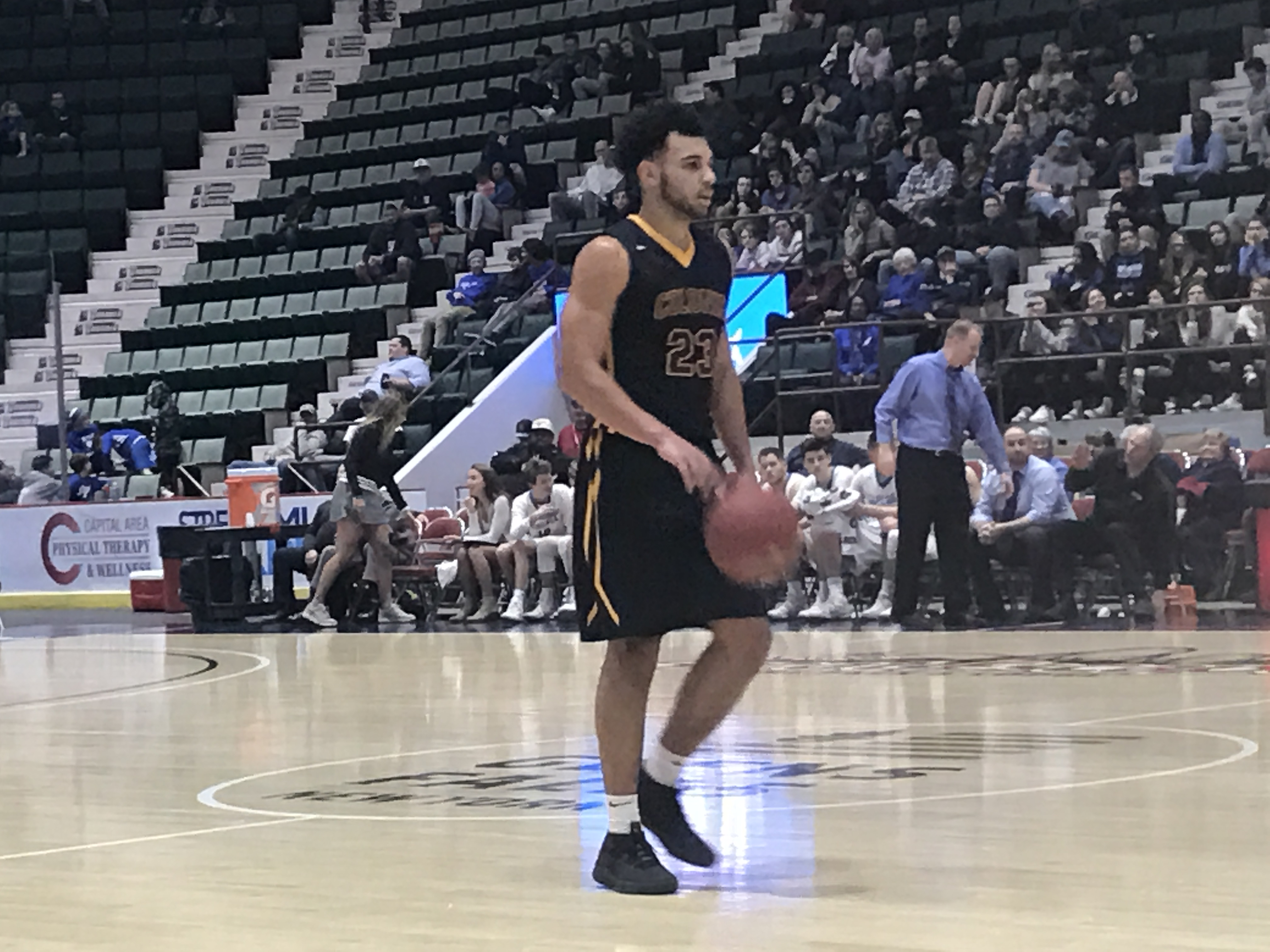 GLENS FALLS — It was a game of huge runs, but it was Colonie making the final one to end the game and putting a cap on Saratoga's historic season. The Raiders beat the Blue Streaks on Tuesday night in the Class AA semifinals at the Cool Insuring Arena by a score of 48-41.
After a two-point first quarter and seeing themselves trailing by nine, Saratoga kicked it into high gear and shot the lights out in the second. They outscored Colonie 21-3 in the second quarter and owned a nine-point lead at the half after an 18-point turnaround. It was highlighted by a trio of three-pointers from Nick Chudy and a run of eight straight points from Matt Larkin.
They did this after struggling mightily in the first, the only points coming on a Brian Hart layup, and trailed 11-2 at the end of one.
"(Colonie) came out, took charge. We made some adjustments and made some shots," Saratoga coach Matt Usher said of his team's performance in the second quarter.
The teams played relatively evenly in the third, but it was Colonie coming up with another big run in the final minutes. They were down 35-31 with just under five minutes to play, but the Raiders came up big from behind the arc, hitting three shots from long range in a row that ended up giving them a 37-35 lead. Two of those threes came from Aaron Satin, and the third was off the hands of Josh Aybar.
The teams traded baskets in the final moments of the game, but Colonie scored six of the contest's final eight points and eventually won by seven and handed Saratoga their first loss since the conference opener back on December 5, a home loss against CBA.
Colonie head coach Ken Dagostino said of Saratoga, "They're just very good. Those guys are very good. You saw what happened, we tried to deny, they still got threes off."
The Raiders outscored Saratoga 22-8 in the fourth quarter.
On offense, Colonie's Will Aybar had a game-high 15 points, while Isaiah Moll had 13 points and 11 rebounds. For Saratoga, Matt Larkin had 14 points in the losing effort, Nick Chudy had 12 points and Hart had 10 points and 10 rebounds.
This loss will end Saratoga's season and 19-game winning streak, believed to be the longest in program history.
Colonie will advance to the Class AA championship game for the second straight year, where they will face perennial powerhouse Shenendehowa. That game will be contested at the Cool Insuring Arena in Glens Falls on Saturday, and is set to begin at 6 p.m.