Boston has it better than New York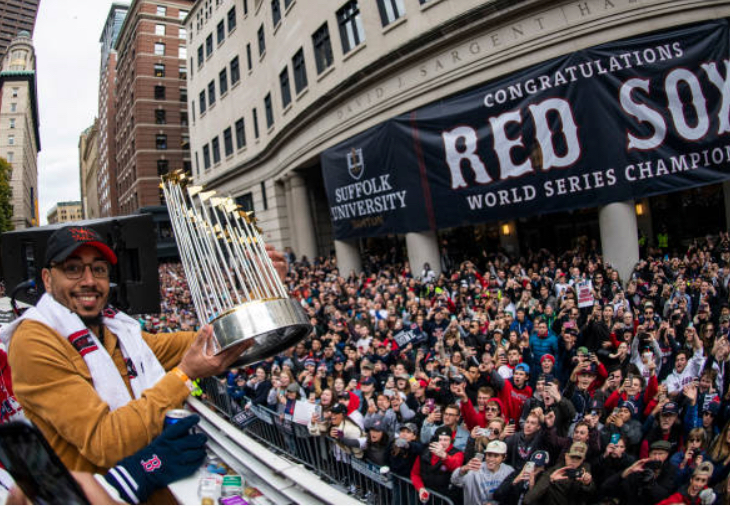 The Boston Red Sox had their championship parade Wednesday in Boston. They were celebrated for winning their fourth World Series championship in the last 15 years.
Overall, it's Boston's 11th pro sports title since 2001. The New England Patriots have five titles during that span and the Boston Bruins and Boston Celtics have won one apiece.
Boston teams are not done yet. They have so many young players and great players that can win for the next few years. In fact, this could be the year all four pro Boston teams can win a championship. The Patriots are a Super Bowl contender, the Bruins are a Stanley Cup contender and the Celtics are an NBA championship contender.
Boston fans have earned the right to be smug. To the victors go the spoils.
It wasn't long ago New York sports fans were like that. At one time, all of their teams were contending for championship in the 90s. It was the glory days. They thought it would last forever. They would laugh at Boston sports fans for seeing their team stink back in the 90s.
Now, New York teams stink all across the board. Boston fans are now doing the schadenfreude. It's hard to blame them for that after the verbal abuse they received from New York sports fans. What goes around comes around.
Don't expect things to get better anytime soon for the teams that play in New York and New Jersey. Not one team has showed they can be a championship team all of a sudden.
The Yankees are the only hope here. Sure, they will spend money this offseason to put themselves in a position to win a championship after the Red Sox won. They have to just to send a message to their rivals, who won the AL East and eliminated them in four games in the American League Division Series. But even if Bryce Harper and Manny Machado are Yankees along with Madison Bumgarner, does this team look like a championship contender?
It remains to be seen if their core players have it in them to win a championship. It's also hard to believe Aaron Boone is the right manager to lead the Yankees to where they want to go. This starting rotation is certainly cutting it. The Yankees are nothing more than a regular season team until further notice.
The Mets may have their championship window closed. They are not getting younger, and the question remains about their starting rotation being healthy for the entire season. This lineup is not good enough. They also hired an agent to be the new general manager in Brodie Van Wagenen, who does not inspire any confidence.
There's nothing to be encouraged about the New York NFL teams from watching this season and the last few seasons.
The Giants are 4-20 in their last 24 games, and it is going to get worse before it gets better. They are going to have to start all over again with a new quarterback after this forgettable season, and they will have to trade Odell Beckham Jr. for things to get better. The jury is out on Giants manager Dave Gettleman and Giants head coach Pat Shurmur, and from the looks of it, they may not be qualified to fix this ailing franchise.
The Jets' hope is they have a quarterback in Sam Darnold. But they are far from being a championship team. They don't have game-changing players on offense for Darnold to work with, and their defense stinks. Jets head coach Todd Bowles is the wrong man for the job, and it's hard to believe Jets general manager Mike Maccagnan is any better. Odds are the Jets will fail Darnold rather than build a great team around him. After all, it's the Jets. It's always Murphy Law's with them.
It's safe to say we won't be having a Canyon of Heroes parade for our two NBA teams anytime soon. The Knicks have been a running joke in the NBA for the last two decades under James Dolan's failed stewardship, so why should anyone believe it will get better? The Nets? They should be a candidate for contraction. No one wants to play for them, and they are still in draft purgatory. Even if the Nets contend for a championship, no one would care since this is and always will be a Knicks' town.
It's slim pickings for three metropolitan area NHL teams. The Devils are just recovering from a bad hockey drought by making the playoffs last year, but this team does not play defense to consider themselves a Stanley Cup contender. The Islanders won nothing with John Tavares, and they are basically starting over now that he departed to the Toronto Maple Leafs, so it's going to take a while until Islanders general manager Lou Lamoriello and Islanders head coach Barry Trotz build a championship team. The Rangers' championship window is slammed shut after failing to get it done when they were contending for the Stanley Cup in the last few years.
There's nothing to say about college sports in New York and New Jersey. Rutgers football will always be a joke as long as we are living. Same can be said about St. John's basketball. Seton Hall's ceiling at best is always going to be get to the tournament and do the best it can. Rutgers basketball might be decent under Steve Pikiell's leadership.
Maybe the New York Red Bulls or New York City FC can win a MLS championship. But what makes anyone think either of them can get it done when it matters?
There's no hope when a New York sports fan assess his or her favorite teams. As long as the current owners own the New York teams and the current owners own the Boston teams, nothing's changing. The point is ownership and smart management set the tone for success, which Boston teams have and New York teams don't.
After being City of Champs as a kid growing up, it's sad now to see New York is now the City of Chumps while Boston sports fans are laughing at us.
Talk about insult to injury.