UAlbany takes down MAAC champion Iona in season opener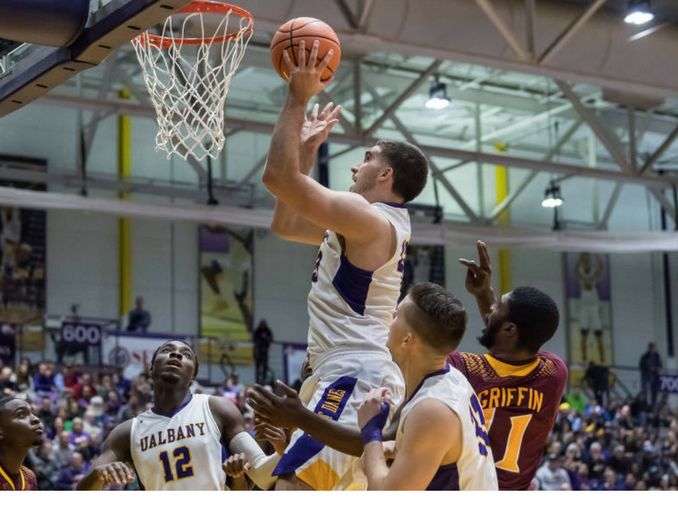 ALBANY — It took nearly all of the power and rebounds in them, but UAlbany was able to hold off a strong second-half comeback by Iona in their season opener on Friday at SEFCU Arena, winning by a final score of 69-67.
The Danes used a strong defense to hold a usually fast-paced Iona team to just 23 points in the first half, leading by 11. Albany dominated the game early on, up by that margin in part thanks to a 29-14 rebounding advantage and grabbing 12 offensive rebounds including a big first half effort from Greig Stire who had five offensive rebounds and seven in total in the first 20 minutes.
"Rebounding is always important, especially if we're not hitting our outside shots or we're missing a lot of shots, just try to go to the glass and get easy opportunities," Stire said.
Stire had a fantastic first game of the year, finishing with 12 rebounds which led the team and tacking on 15 points, second on the team.
"We needed to impose our will on them. If they were going to play small, we needed to pound the ball inside, and we needed to pound the backboard, so our guys did a great job on the glass," Albany head coach Will Brown said.
Iona, known for their up-tempo style, came into the second half on fire. They came out of the gate on a 15-4 run and tied the game at 38 just over five minutes into the second half on a three from Rickey McGill. The Gaels took their first lead of the second half shortly after that, and it led to the lead changing hands six times in just under three minutes, making it anybody's game at that point with eight minutes to play. The Iona run was led by TK Edogi, who had 11 points in the first five minutes of the second half and 17 in total.
"We knew they were going to make the run, and we just had to weather the storm," guard David Nichols said.
The game stayed close as Albany never led by more than four after that, hitting nearly all of their late-game free throws to not allow Iona to even tie the game in the final minutes. Iona did have a tough break as a three from Deyshonee Much went in with seven seconds to play that would have tied the game at 67, but it was ruled that a foul was called just before the shot, and Iona had to settle for two free throws. Albany iced the game with two more free throws from Nichols in the final seconds.
"They made plays they needed to make to win, and we didn't," Iona head coach Tim Cleuss said.
Albany wins their first game of the season. They will play again Monday night on the road as they take on Boston University. They return home on Friday, November 17, facing Yale. Both games will begin at 7 p.m.
Iona heads out to central New York following this one, as they will take on Syracuse on the road in their next game on Tuesday night with a 7 p.m. start.