Albany Academy uses strong shooting to cruise past Colonie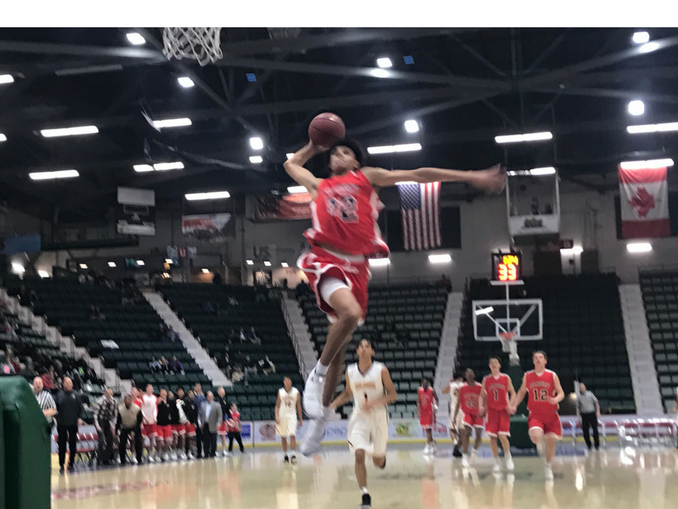 GLENS FALLS — Albany Academy used a strong shooting performance from August Mahoney and a stout defense to grab a lopsided win over Colonie on Saturday afternoon at the Cool Insuring Arena in Glens Falls, 80-55 in a game that was part of the second annual Sunmark Shootout.
The Cadets set the tone early on in the affair, hitting early threes that allowed them to grab a double digit lead in the first quarter. Mahoney quickly became a large part of the scoring attack, hitting a trio of threes in the first eight minutes of the game. Andre Jackson provided a spark late in the first with a ferocious fast-break dunk that gave the team a 22-8 lead. The 14-point advantage was their biggest lead in the first quarter, and they held a 24-16 lead at the end of it.
"I think it's real important, but I also think sometimes it's hard to keep your focus in those spots, and I thought we did a great job keeping our focus and keeping that lead," Albany Academy head coach Brian Fruscio said.
Colonie was able to claw their way back into the game during the second, trimming their deficit to as little as five after junior Josh Aybar caught fire and hit three shots from behind the arc in less than two minutes.
Academy stayed with them the entire time, though. They did not let Colonie get too close, and ended up closing the half on a 12-0 run and had a 17-point lead at the break, 45-28.
"That was huge. Going into the locker room up 17 instead of five, that was unbelievable, just to have the energy coming in the third quarter," Mahoney said.
Coming back out , the Cadets did not look back as they kept the offensive attack going as they scored heavily and cruised into the night with a 21-point lead with eight minutes to play, and it was smooth sailing from there.
Mahoney finished the game with 25 points and was one of four Cadets to score in double figures. Marcus Filien had 16 points, Rob Brown had 13, and Andre Jackson finished with 12.
Fruscio said of Mahoney: "He does it every day. He shoots the ball like that every day. He has three or four other guys that he shares the ball with."
Colonie falls to 11-4 with the loss and will be back in action Tuesday on the road against Columbia as they head back into league play.