Adirondack Thunder shutout Worcester in first playoff game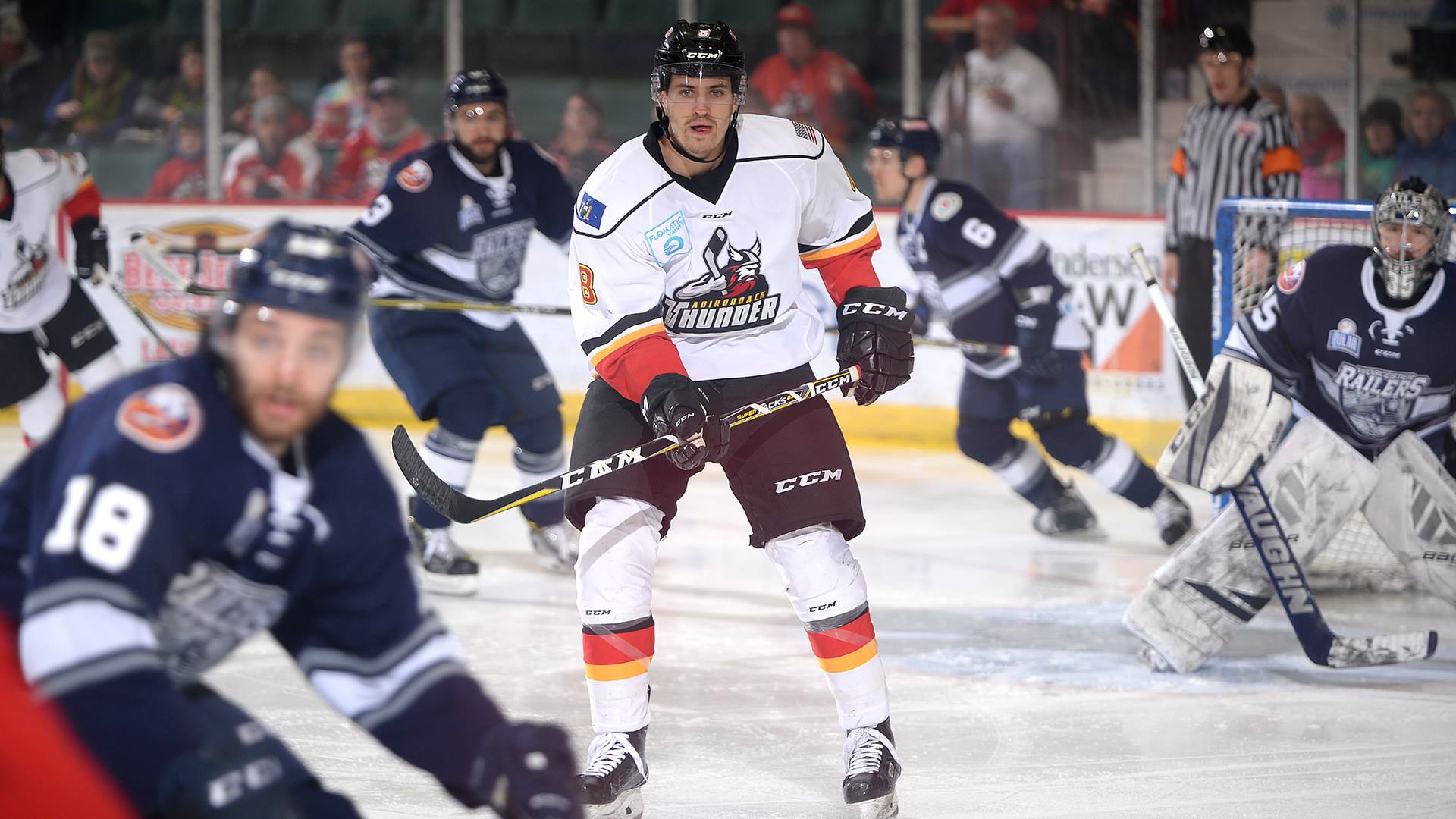 GLENS FALLS — The Adirondack Thunder jumped out to a series lead over the Worcester Railers as they posted a 3-0 victory in Game 1 on home ice on Friday evening at Cool Insuring Arena.
Goaltender MacKenzie earned his first career ECHL playoff victory and shutout as he turned aside 27 Worcester shots in the victory. Forwards Tim Harrison, Paul Rodrigues and Brian Ward each found the back of the net in the victory while defenseman Dylan Olsen led the Thunder with two assists from the blueline.
Adirondack opened the scoring for the series midway through the first period as Harrison collected his first career postseason goal 8:58 into the game. Olsen held the puck at the left point and fired a shot towards the net that Harrison redirected past Worcester netminder Mitch Gillam for the game-opening goal. Olsen and forward Austin Orszulak collected the assists on the play, the first of the playoffs for both skaters.
The Thunder extended their advantage to a pair 7:54 into the middle stanza as Rodrigues scored on the man advantage to put the hosts ahead by a pair. Forward Ryan Schmelzer moved in from the right-hand circle and saw his pass deflected to Rodrigues in the slot, where he pulled to his forehand and beat Gillam through the five hole for the goal. Schmelzer and defenseman Desmond Bergin collected the assists on the play, the first point of the playoffs for both players.
The home side added a third goal just under six minutes into the third period as Ward collected his first goal of the postseason. After a James Henry shot was turned aside by Gillam, the puck fell to Ward to the left of the crease and the Thunder's leading goalscorer during the regular season swatted a backhanded effort through the Worcester netminder to extend the Adirondack lead to three. Henry and Olsen tallied assists on the play, Olsen's second of the evening.
The series shifts to Worcester for Games 2 and 3, to be held at the DCU Center tomorrow and Sunday, with puck drop tomorrow slated for 7:05 p.m. The Thunder return home next to Cool Insuring Arena on Wednesday, April 18 for Game 4 at 7:00 p.m.