A team effort sees UAlbany push aside Maine
Cremo, Nichols and Charles lead the way to edge out the Black Bears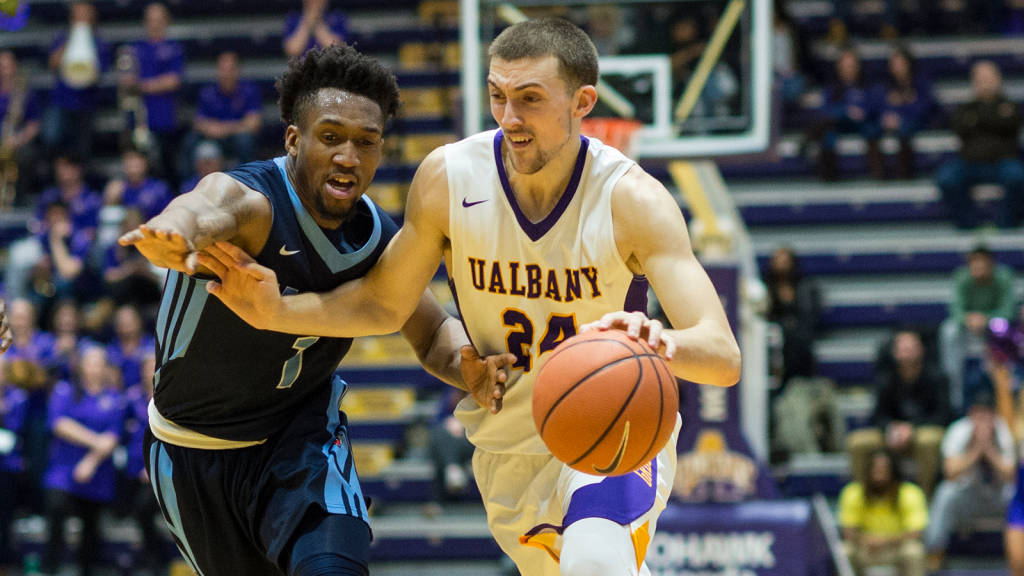 ALBANY — One down, one to go.
The America East Conference regular season is winding down for the University of Albany Great Danes men's basketball team. After last night's game against Maine, the team will only have one more game before the start of the America East Conference tournament.
UAlbany has had an up and down season but a positive 89-79 win last night ensured them the fourth seed in the America East tournament. The team met up with Maine back on January 13 and dominated while only allowing Maine to score 10 first half points. The Danes were not able to duplicate that same outcome but they were still able to control the game early and often.
The word team is defined as a group of players forming one side in a competitive game or sport to reach a common goal.
That is exactly what UAlbany did last night. In a game where a team has had incredible highs and devastating lows, they all came together as one and produced exquisite basketball. To scoring, to ball movement, to rebounds to defense, the Danes seemed to do everything right from start to finish to make sure they came out victorious in the end.
A lot of back and forth action from both teams occurred early but that did not last long. UAlbany was able to pull away and use a late run to gain a 13 point lead heading into halftime. Guards Joe Cremo and David Nichols led the way scoring nine points a piece while forward Travis Charles added seven points and seven rebounds (four offensive).
"I felt like we came out of the gate strong," UAlbany head coach Will Brown stated after the game, "and then I thought the last 12 to 13 minutes of the first half I thought we did a good job defending and sharing the ball".
The second half began and Maine came out with a bang. They went on a bit of a run and cut down the deficit down to only four points in about five minutes in. The game became very chippy as the referees allowed the players to play and did not call a lot of fouls especially late in the contest.
The Danes came right back however, with a run of their own as Nichols and Cremo began hitting big shots while Charles and fellow forward Greig Stire were busy under the rim pulling down rebounds to give the team second chance point opportunities.
"It's something that we preach everyday, and I'm pretty sure our record is better when we win the rebounding battle" senior forward Greig Stire said after the game.
UAlbany was able to out rebound Maine 45-26 including 20 offensive rebounds that gave the team 11 second chance points which were huge knowing that UAlbany won the game by 10 points.
Joe Cremo finished the game with a team high 24 points, two rebounds and four assists while back-court mate David Nichols chipped in 16 points, five rebounds and four assists. Travis Charles notched his second double-double of the season with 16 points and a game high 14 rebounds. Charles did exit the game in the last-minute when Maine's Andrew Fleming dove for a loose ball and collided with Charles's knees sending him to the ground in pain.
"It's his knee, and I was told was that we need to see how it is when he wakes up [tomorrow morning] to see if it swells up and that'll determine how we move forward" Will Brown discussing Charles's health.
UAlbany will finish off the 2017-2018 regular season home at the SEFCU Arena next Tuesday, February 27 as they take on Binghamton. This will be the last regular season game for their seniors including Greig Stire, Travis Charles, Alex Foster and Costa Anderson.
Tip off for that game will be at 7 p.m. and can also be watched on ESPN3.