A game for the ages sees UAlbany fall just short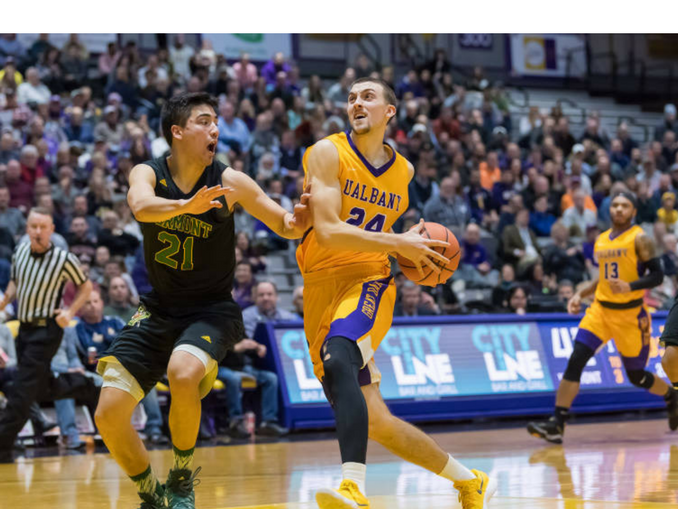 ALBANY — The date is February 8, 2016, which is exactly two years ago to the day. The location is the Costello Athletic Center in Lowell, Massachusetts, and the UMass-Lowell Riverhawks just beat the Vermont Catamounts 100-93.
Vermont has not lost an America East Conference game since.
Before last night's game against the University of Albany, the University of Vermont men's basketball team was on a 30-game America East Conference winning streak and they had not tasted a loss since that day against UMass-Lowell two years ago.
UAlbany, who was still fresh off of their home victory against New Hampshire which saw Joe Cremo score a career-high 31 points, took on Vermont in the battle of the two best teams in the America East. Vermont was coming into this game with an 9-0 conference record while the Danes came in at 6-4. 3,602 fans packed into the SEFCU Arena for the biggest game of the year as UAlbany was looking to knock off the Catamounts for the first time this season. However, they came up just short, losing 72-67 and seeing Vermont's conference win streak be extended to 31 straight games.
The game started pretty fast for the Danes. UAlbany (18-8, 6-5) connected on six of their first eight shot attempts and took control early in the first half of this contest. Joe Cremo, who was flawless in the game against New Hampshire, led the way for UAlbany tallying 12 first half points on 4-9 shooting while adding four rebounds and five assists. Travis Charles also played well for the Danes in the first half as he scored on their first possession of the game and then continued to score throughout. He finished with eight points and two rebounds at the half.
Vermont (20-5, 10-0) looked confused and flustered by UAlbany's constant pressure. The Danes played right up in the faces of the Catamounts all game long and early on, Vermont had no answer. UAlbany rotated well on defense and always had help especially when Vermont's Drew Urquhart and Payton Henson (who are both 6'8″) received the ball in the low post.
Vermont scored their second least amount of points during a first half of a conference game this year as UAlbany held them to 26 points on 45% shooting. The Danes also had a 17-point advantage during the half but Vermont was able to cut it down to nine right before halftime as the Danes led 35-26.
"Albany seemed like they made every shot to start the game and we were just sped up" Vermont head coach John Becker said after the game. "I thought the second part of the first half we calmed down and we got it down to single digits right at the end" Becker added.
The second half of this contest was much different from the first and it was not pretty for UAlbany.
Like most games this year, UAlbany play halves very differently and can never be consistent. This game was just like any other game, "a tale of two halves." The Danes started off the second half slow as Vermont quickly went on a 15-6 run which brought the Catamounts right back into the game and tied the game up at 41. UAlbany, however, was able to pull away once again and grab another 10-point advantage when David Nichols made two straight three-point baskets and eight total points in a four-minute stretch.
Vermont fought back once again and UAlbany just could not keep them down. After getting down by 10 once again, Vermont went on 11-2 run to bring the score back to a one point Danes lead but then ultimately took the lead late and used free throws to keep UAlbany from getting that lead back.
"Earlier in the season we did a pretty good job of coming back and I feel like we're a second half team" Vermont senior forward Drew Urquhart said while addressing if his team felt desperation when trailing by 10+ points twice during the game. "There's always desperation when the game is on the line and you want to get the W, but we're a group of veterans so we do a pretty good job at calming each other down."
UAlbany head coach Will Brown praised his players after the game as he knew playing Vermont would be a tough match up. "I thought our guys were ready to play, thought they had great energy and enthusiasm and we put ourselves in a nice position in the first half." He also added that he knew Vermont would not go down easily and explained how he believed was the deciding factor that allowed Vermont to come out victorious. "We knew Vermont was going to go on a run, just too good of a team…and I think what it came down to was that we spent too much time putting them on the free throw line in the second half."
Vermont was 20-20 from the free throw line and knocked down 16 of them during the second half which ended up being a major factor why UAlbany was not able to hold on.
UAlbany will now try to shake off that tough loss as they begin a three game road trip with the first stop at Hartford on Sunday, February 11. They will try to take out the Hawks as UAlbany tries to make up ground in the America East and try to finish in one of the top spots to earn home playoff games when March comes around.
Tip-off for that game will be at 2 p.m. while also being aired on ESPN3.